The world of digital design is witnessing a true revolution thanks to artificial intelligence. AI design tools are changing the way artists and graphic designers create and express online. By making it possible to achieve desired design outcomes within minutes, AI is sending their creativity for a spin and pushing all boundaries of artistic potential. (Also read: Best AI Background Removers)
No matter if you are a designer, developer or someone looking to streamline their workload, AI design tools have got your back. Let's explore the best of the best AI tools of 2023!
Best AI Design Tools of 2023
Here is a list of the best AI design tools available online in 2023:
1. Adobe Firefly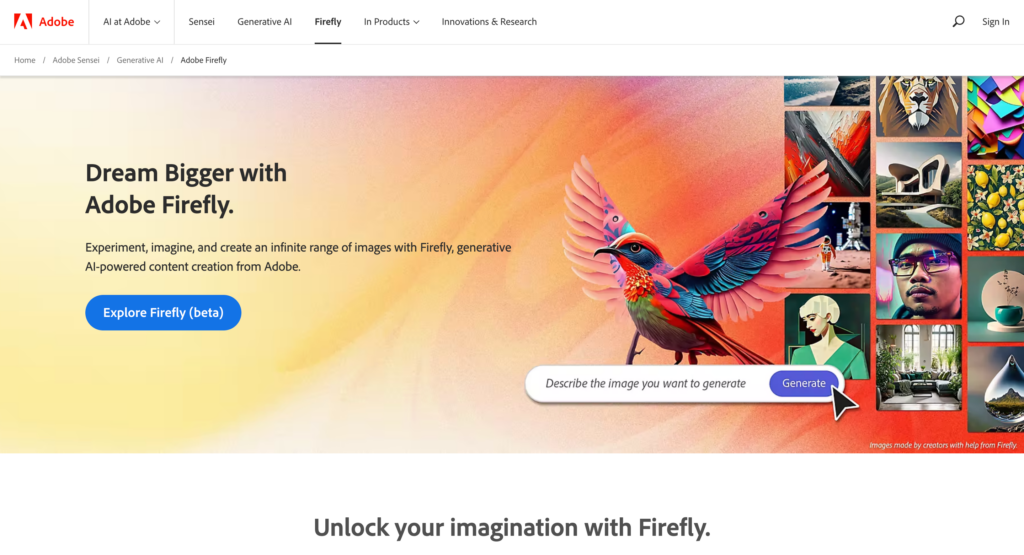 Every creative professional is most likely familiar with Adobe and its range of innovative products, but maybe not of Adobe Firefly, the most recent one. It is an advanced software consisting of a set of AI design tools. They are capable of generating impressive text effects, converting text to images, and recolouring vectors to provide a dynamic range of colour variants.
Firefly is currently in beta but it is readily available to Adobe cloud program subscribers, such as those of Photoshop and Illustrator. Firefly's result quality depends heavily on the type of prompt you input. As with all prompting, the more specific the better. It allows you to tweak every component of your output to match your creative vision. It is also super easy to downloaad and use the created images in your design projects.
Pricing: Adobe Firefly features can be accessed for free with the beta access.
What the Users Say:
Launched pretty recently and still in Beta but it's here to stay. Firefly's generative AI algorithm creates & provides a range of designs that you can choose from. Over the past few months Adobe has integrated this technology in Photoshop.
What's not to love? Text to Image creation is fantastic, the interface is easy to use, and you can generate any image on the go and edit them as fast as you can type. This tool will change the design game.
2. Designs.ai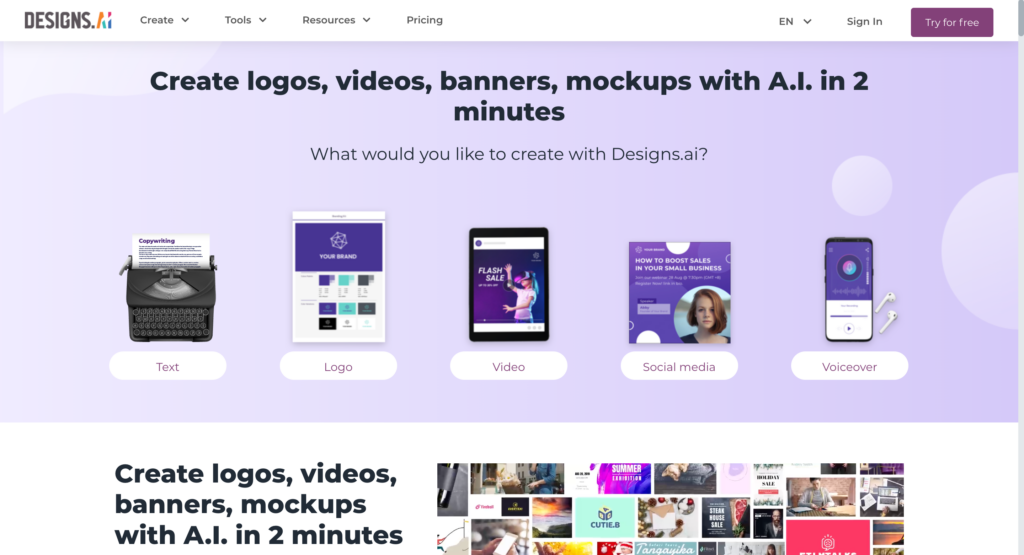 Designs.ai is an all-in-one AI-powered toolbox that flips people's expectation about what AI graphic design tools can achieve on its head. It has almost every tool that you would possibly need, from an eye-catching logo, impactful video to effective social media posts.
But Designs.ai provides more than just a diverse toolkit; it guarantees an efficient and personalised creative journey. Whether your project requires branding or video production, its diverse suite may meet any creative need. Designs.ai supports creativity and uniqueness through an easy-to-use platform, regardless of your design background.
Assisting tools
Font pairer
Color matcher
Brand identity package
Unlimited downloads
Collaboration options, and much more.
Pricing: Designs.ai's Basic plan is available for 29 USD per month, and the Pro for 69 USD per month.
3. Microsoft Designer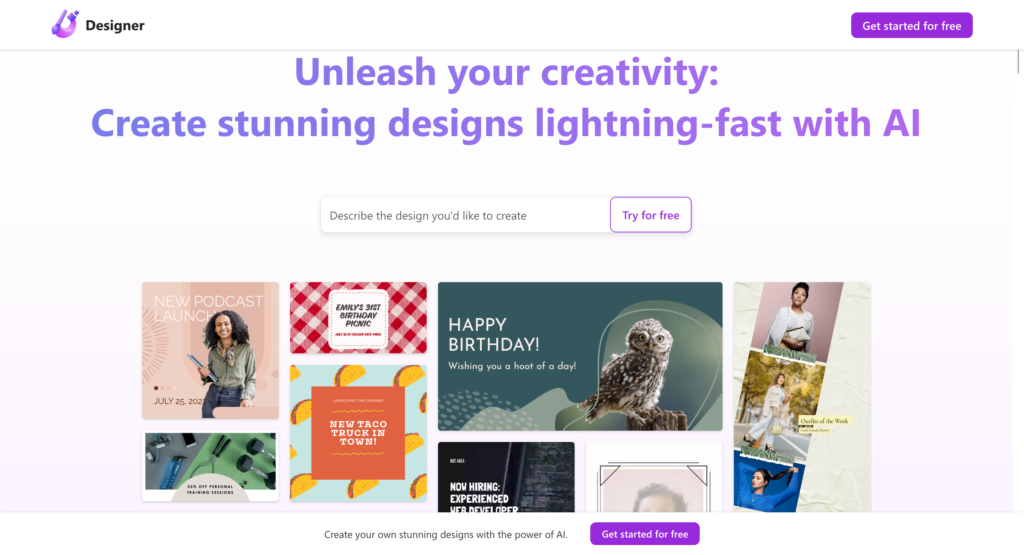 Microsoft Designer is an easy-to-use AI design tool that generates unique designs based on your input and instructions. It includes motion graphics to make your ideas more appealing, as well as a library of 100 million high-quality photos and movies. Additionally, through the tool's rapid share feature you can quickly share the designs to your social network.
You need to follow a few basic steps to develop designs that match your brand's image using Microsoft Designer:
Enter a brief primary description or concept for the design you wish the tool to create.
Define the design's uniqueness in accordance with your individual requirements, including the character, colour, background, and aspects you anticipate from the final product.
Through the tool's drag-and-drop editing interface, you may change the AI-generated design by adding or removing elements such as text, styles, and visuals.
Pricing: Microsoft Designer is free with some limitations, and the Pro subscription starts at 119.99 USD per year per user.
What the Users Say:
Kudos to the team Microsoft…better than ever! With AI-generated images, motion effects, and powerful text suggestions, designing has never been easier.
Microsoft Designer is a fantastic tool that lets you make one-of-a-kind designs and get suggestions for all your digital needs. This app is very easy to use and perfect for creating posts, invitations, or any other digital content you might need.
4. Uizard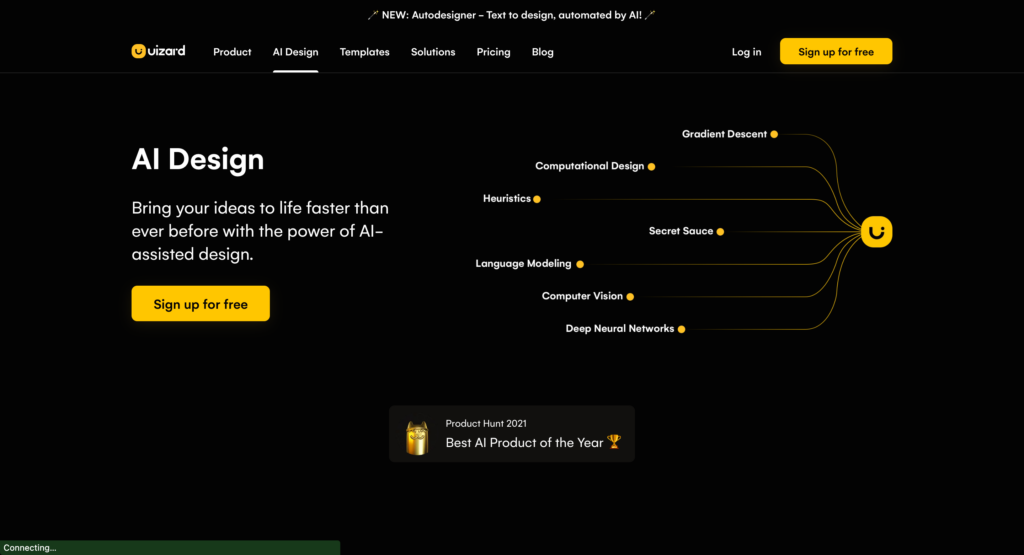 Uizard boasts of over 400,000 users, and aims to simplify design by assisting both designers and non-designers in creating interactive digital goods for audiences.
It allows you to create great websites, desktop interfaces, and web and mobile apps in seconds. It transforms your scanned hand-drawn sketches into a prototype and applies them to your project instantly. Furthermore, Uizard's pre-made design templates and drag-and-drop components allow you to swiftly update your designs.
Choose from hundreds of templates
Make webpages, web apps, and lot more
Generate a workable framework from a drawing or screenshot.
Multiple design aspects
Simple drag-and-drop interface
Pricing: Uizard has a free plan with limited features. The Pro2 plan with added features is available starting from 12 USD per month.
What the Users Say:
It provides an awesome template to design ZUI and customize it with its AI intelligence. It provides sharing option to share the design with others. It also provides the tool to create a responsive design in Ui for websites.
It is simple, straightforward, easy to use and its AI-powered platforms as a whole really assist you to quickly create your best designs. I also like how it is accessible on web anywhere you are.
5. DreamStudio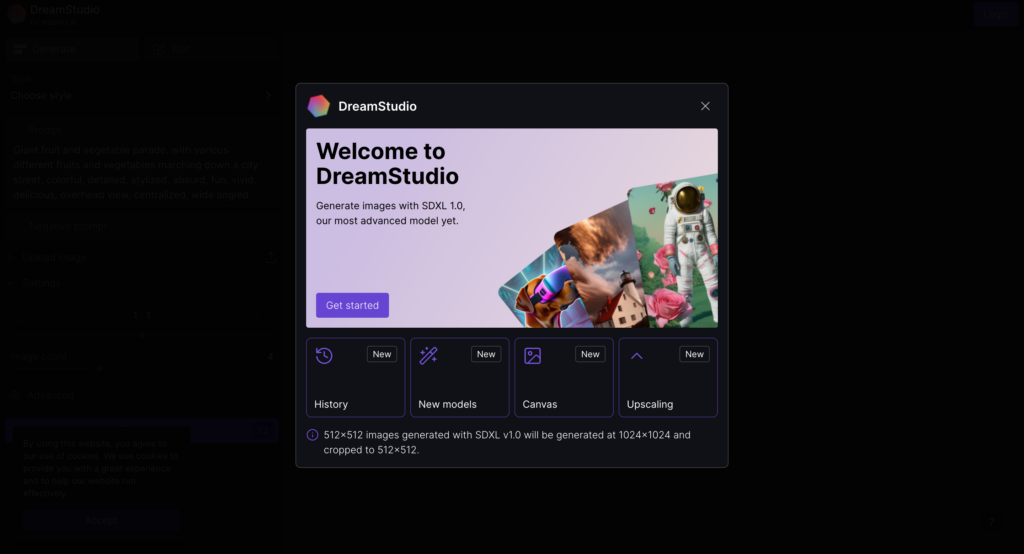 DreamStudio is based on Stable Diffusion, an energy-based text-to-image model that learns how to make images while consuming the least amount of energy. As a result, it produces AI-generated graphics ranging from photo-realism to art deco to anything in between.
DreamStudio stands out among other text-to-image producers due to its ability to edit and upscale images using various photo-enhancing approaches. These include features like such as preserving fine details and clarity and eliminating visual artifacts and distortion, distinguishes. DreamStudio includes a number of image style presets such as enhanced, photographic, comic book, and so on. You can also provide a negative prompt to tell DreamStudio what to avoid. You can also upload your own photos and then add prompts to them, which is a fantastic feature.
Based on Stable Diffusion
Produce, edit, and download images
Get high-quality photos within 2 seconds
Pricing: DreamStudio is free to access, and you can get 1000 credits for 10 USD.
What the Users Say:
I can't really believe this is free. It's amazing how good these models are becoming. While I know I could host this myself, Dream Studio makes it easy to play around with these tools.
Amazing piece of technology. Love creating AI generated images with your online app. It's fast efficient and with the addition of SDXL it's amazing! thanks for all your hard work.
6. Looka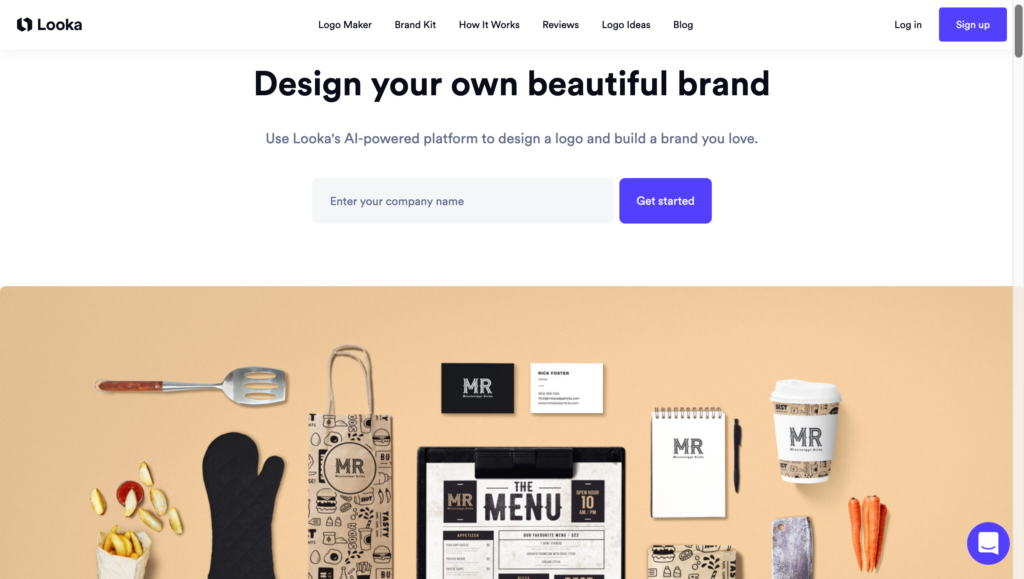 Looka is a capable AI design tool that can help you create company logos and other designs. Without prior design experience, you can use the tool's Logo Maker to create and alter the created designs.
Looka's 'Brand Kit' tool serves as a one-stop shop for creating branded content designs that match your brand's colour, style, and typeface across several platforms and purposes. Furthermore, you can select from over 300 templates to find one that best fits your business identity and needs.
These templates can be used to personalize your brand's business cards, email signatures, and social profile graphics. Looka is the appropriate AI design tool for you if you want to automate and expedite your consistent brand and social media strategy.
Pricing: Looka offers a company plan with a 1000 USD monthly fee for up to 100 logos/month.
What the Users Say:
creating a logo and building your branding by Looka is really helpful with 1000+ creative suggestions.
Loved using it, it offers great templates and interesting features. Useful for a beginner
7. Khroma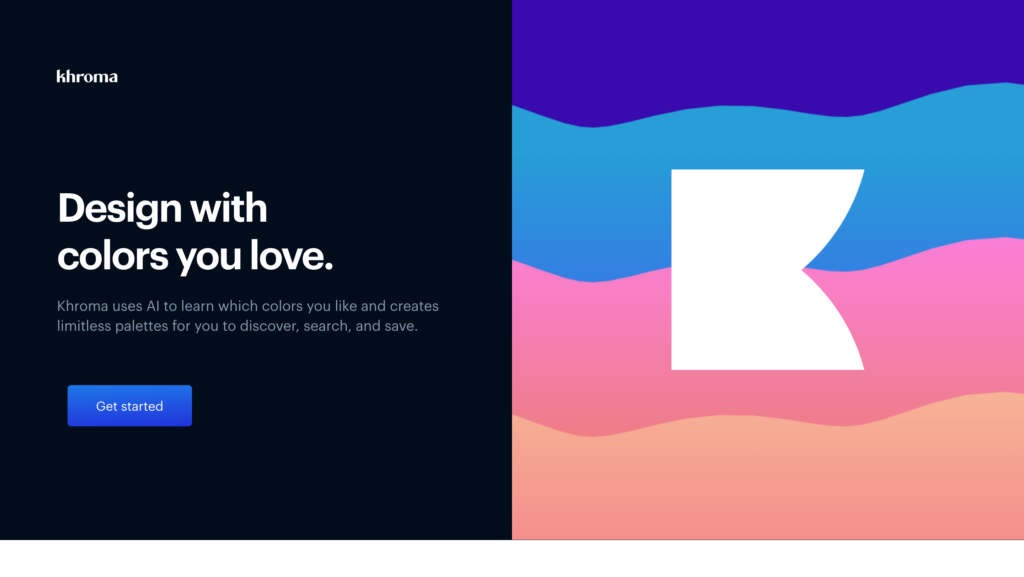 Another tool on the list is Khroma, a great solution for designers struggling to find the perfect colour scheme. Khroma is an AI-powered colour combination generator that gets inspiration from your colour palette and hundreds of human-made colour palettes on the internet.
To create a personalised list of colour combinations, first select 50 colours from the Khroma website. They can be viewed as a gradient, palette, typography, or image. You can also increase your collection by discovering and searching for new combinations. You can also upload your own original image and test the colours on it.
Create endless colour palettes
Implement colours easily by copying hex codes
Images created by AI using your colours
Apply colours to your own uploaded images
Pricing: Khroma is free to use.
What the Users Say:
Honestly did not expect this to be so good but I either like a lot or LOVE all the color combinations it suggest! It's great that it doesn't serve them in a color palette format and uses text on background instead because that way you see if it actually works the way you imagine it. So happy I found this!!
This is my favorite app/website on the internet. I have, since its inception, habitually just rendered color choices and stared at it for hours.
Do try these AI design tools and watch the magic of AI happen.