Among the many AI applications we see around us today is one of AI talking avatars. AI talking avatars are computer-generated characters or voices replicating human communication. They are also used as virtual assistants or chatbots.
This capacity to synthesise speech based on user inputs is what makes AI talking avatars special, as it does not come with prerecorded dialogues. Developers can also construct these talking avatars on real people. The voices and appearances of people/actors serve as references for these talking avatars. (Also read: Best AI Voice Generators in 2023)
In contrast to artificial, lifeless computer-generated characters, this results in a more natural-looking character. Moreover, these avatars are trained to improve their responses over time, thus becoming more efficient and accurate in their interactions.
Benefits of AI-Talking Avatars for Videos
AI-talking avatars for video presentations eliminate the need for performers, crews, studios, and so on. It not only decreases production costs, but it also saves you time.
An AI-generated video can be readily updated or revised in minutes. This is impossible with real people since it takes time and money to make the necessary changes.
With AI talking avatars, you can quickly select from a wide range of languages and voices to enhance the appeal of your material.
Post-production is a time-consuming process. However, with talking avatars at your disposal, making changes and creating different versions of the same film is a piece of cake.
Applications of AI-Talking Avatars
AI talking avatars offer a variety of applications across industries:
In customer service, they can act as virtual assistants and provide instant support. Avatars can answer frequently asked questions and speak multiple languages, thus enriching user experience. They also offer 24/7 availability, ensuring that customers can receive support or information at any time.
In videos and e-learning, they can serve as virtual tutors, guiding students through lessons and providing personalised feedback
Marketing and sales can make use of them for engaging with customers. Including a super-realistic AI avatar in the mix can personify the content and better capture the audience's attention.
Many healthcare institutions utilise talking avatars in digital health services to answer health-related questions from patients. They also address inquiries about insurance and billing.
Best AI-talking avatar creators in 2023
Here is a list of the best AI-talking avatar creators available online in 2023:
1. Synthesia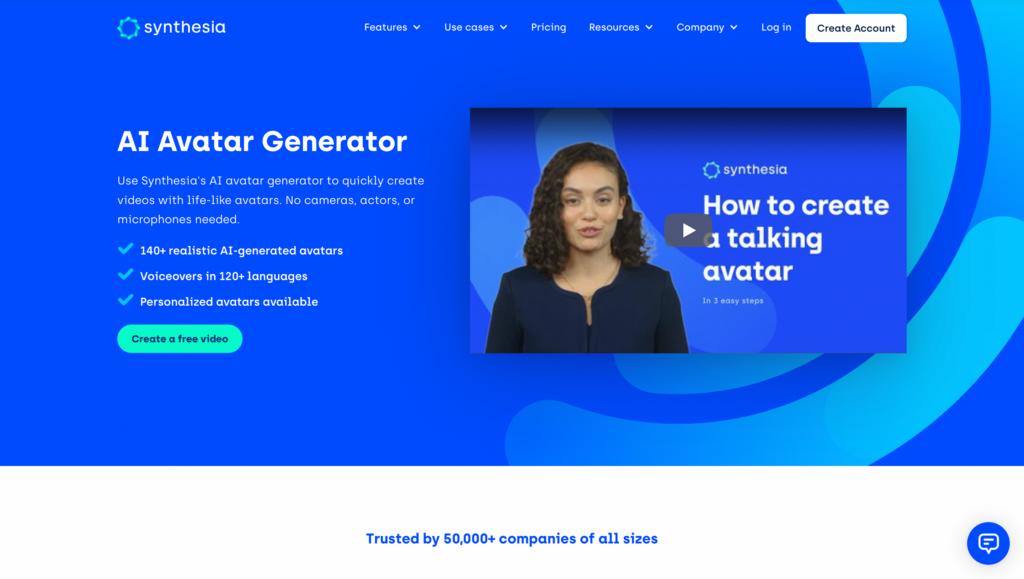 Synthesia is a leading tool for video generation and creating realistic AI talking avatars for all your videos. You simply type in your text and watch it generate a professional-quality video with a talking avatar within minutes!
Synthesia offers over 120 language options and more than 85 avatars that the user can employ to read out their script. Moreover, the avatars generated by Synthesia are based on real humans, thus all of them show human-like movements and expressions. It makes the videos appear less artificial and more relatable for the audience.
Additionally, it also has a feature that allows users to create their custom AI avatars and voice. Users can create an avatar of themselves or their team mates!
Pricing: Synthesia's text-to-avatar is part of its paid plans starting at 30 USD per month, while the custom AI avatar is an add-on to the subscription for 1000 USD per year per avatar.
2. Elai.io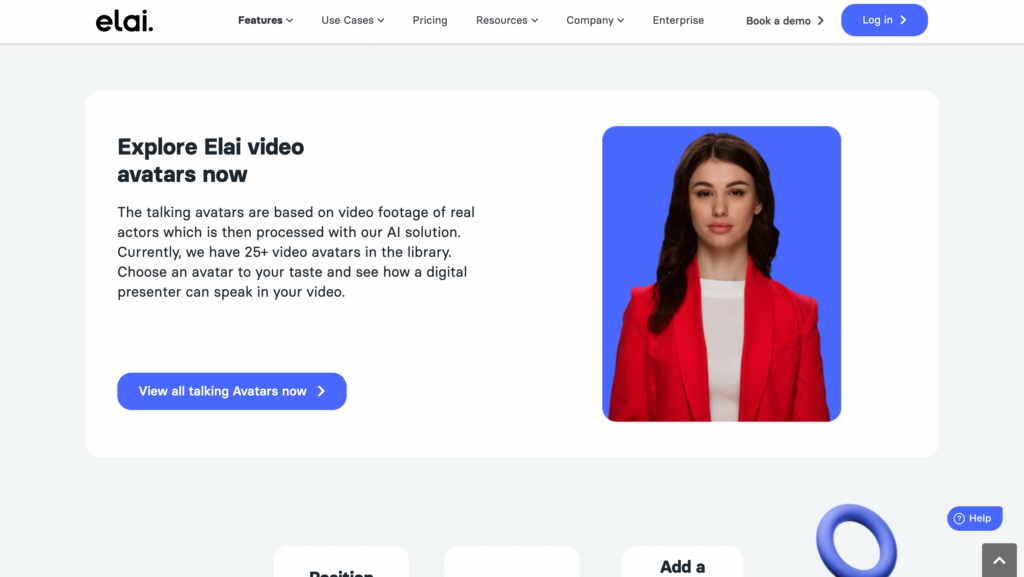 Elai.io is another tool that allows you to easily create videos with real human AI avatars using just text. It has over 25 video avatars available for you to choose for your videos.
You only have to input your text script and Elai.io takes over from there. It is extremely easy to use and requires no technical knowledge.
Additionally, you can also create your own custom AI avatar or even a studio avatar who will be exclusively available to the user!
Pricing: Elai.io allows the user 1 minute of video for free to test the tool. Once that is done, they can purchase any of its premium plans starting at 29 USD per month.
3. Synthesys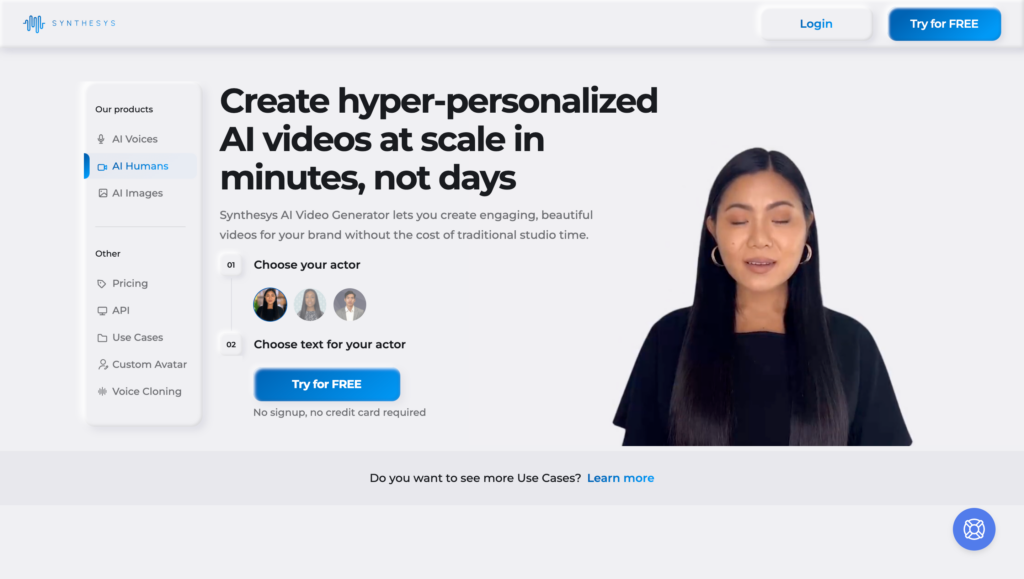 Synthesys offers a full AI studio to help users create hyper-personalised AI videos at scale within minutes. It is one of the best AI talking avatar softwares available online.
Users can choose from more than 80 avatars and combine them with text, images, shapes, titles etc to make an impactful video. It also offers more than 50 video templates to help you start from scratch.
You can even sync your voice with your AI avatar to elevate your videos. If you don't want to do that, however, Synthesys still offers 300+ voices across 140 languages to personalise your avatar to the T.
Pricing: Synthesys offers a risk-free trial for up to 5 minutes of AI videos. Beyond that, users can opt for its premium version that starts at 35 USD per month.
4. Scena.ai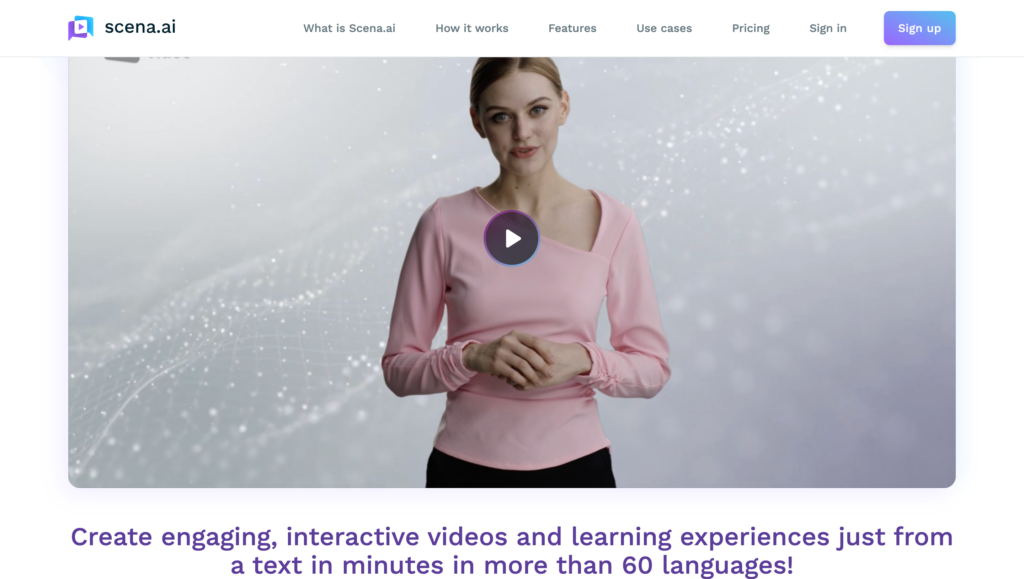 Scena.ai also allows you to produce premium-quality AI talking avatar videos, thanks to its library of more than 45 AI avatars. Users simply have to input their script and Scena.ai will generate a synthetic video in a minute.
It offers more than 60 language options for the user to input their text in. Scena.ai also allows you to make a moving, talking AI avatar from a still photograph!
Pricing: Scena.ai offers a free "Script Project" plan with limited features. The paid plans with added features start at ~80 USD per month.
5. Animaze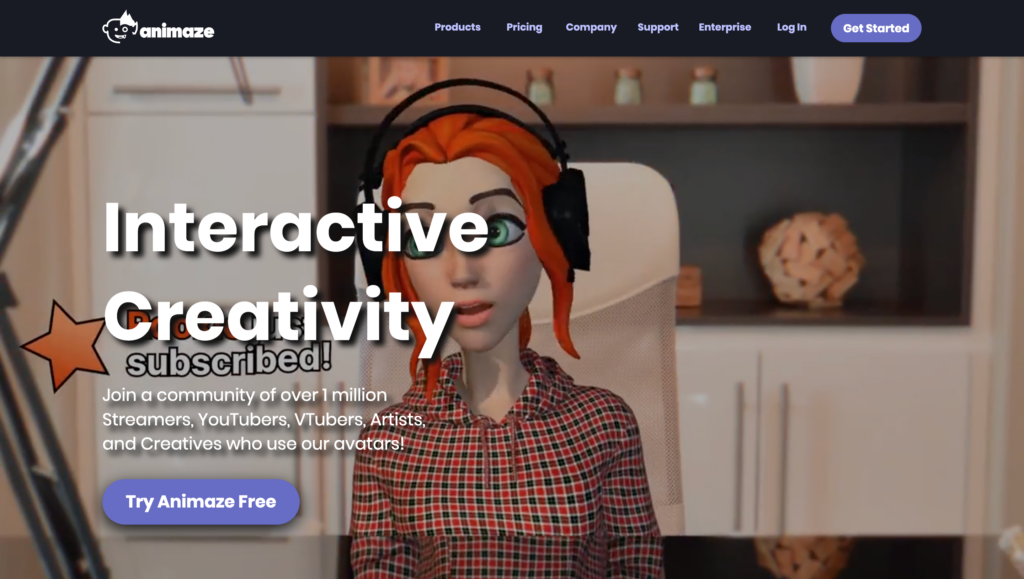 Animaze is another great tool that allows users to choose from a big collection of premade video base models. These models include animals, objects, humans among other things!
It is a cool and fun way to create avatars for your videos and make them different from the crowd. It supports Zoom, Discord etc and works well with iPhones and webcams.
After making your videos you can easily share them on various platforms like YouTube, Twitch, etc.
Pricing: For beginners, Animaze offers a free plan with limited features. Users can choose its monthly and yearly paid plans with premium features starting at 3.99 USD per month and 19.99 USD per month.
Conclusion
AI talking avatars are a powerful tool that can enhance customer experiences, streamline processes, and improve communication. By leveraging artificial intelligence and natural language processing, these virtual avatars can simulate human conversation and provide valuable support and information.