In recent years, there has been an increase in the use of AI avatar in business. Businesses make use of AI avatar generator tools to help with a variety of tasks, such as customer service, sales, marketing, and even product development. In this article we will discuss how to use AI avatars in your business as well as the best tools to try out in 2023!
What is an AI Avatar Generator?
An AI avatar generator is a computer program that creates an image of a person or an imaginary character. This image is then used to create a virtual persona that behaves like a real person.
Using AI avatar generators, businesses can create virtual "team members" that appear human. AI-powered avatar generators can be trained to understand and respond to customer queries in natural language, in addition to performing administrative tasks, like scheduling meetings or sending automated emails.
In addition, AI avatar generators can be used to create realistic 3D avatars that can be used for customer service interactions, product demos, marketing campaigns, and more. AI avatar generators can be trained to create highly-customised avatars that match a company's branding and the customer's preferences.
How Can an AI Avatar Generator Help your Business?
An AI avatar generator can help your business in a variety of ways.
There are many benefits of using AI avatars in business- they can help businesses save time and money, improve their customer service, increase their sales, improve marketing, and in product development:
First, these avatar generators can provide a more personalised customer experience. AI avatars can provide customer support, conduct sales conversations, and perform other tasks that a human might not be available to do. This increases customer satisfaction and can lead to more sales.
AI avatar generators can be an effective marketing tool. Companies can use AI avatars to create engaging visuals and content to promote their products and services. This can help reach a wider audience and provide customers with a more personalised experience.
Finally, AI avatar generators can provide your business with valuable insights. By collecting data from customer interactions with AI avatars, companies can gain insight into customer needs and likes. You can then use this data to improve customer service and marketing strategies, and to drive more sales.
10 Best AI Avatar Generator Tools for your Business
Now that we have discussed the benefits of using AI avatars, here is a list of the 10 best tools that you can try out in 2023:
1. Simplified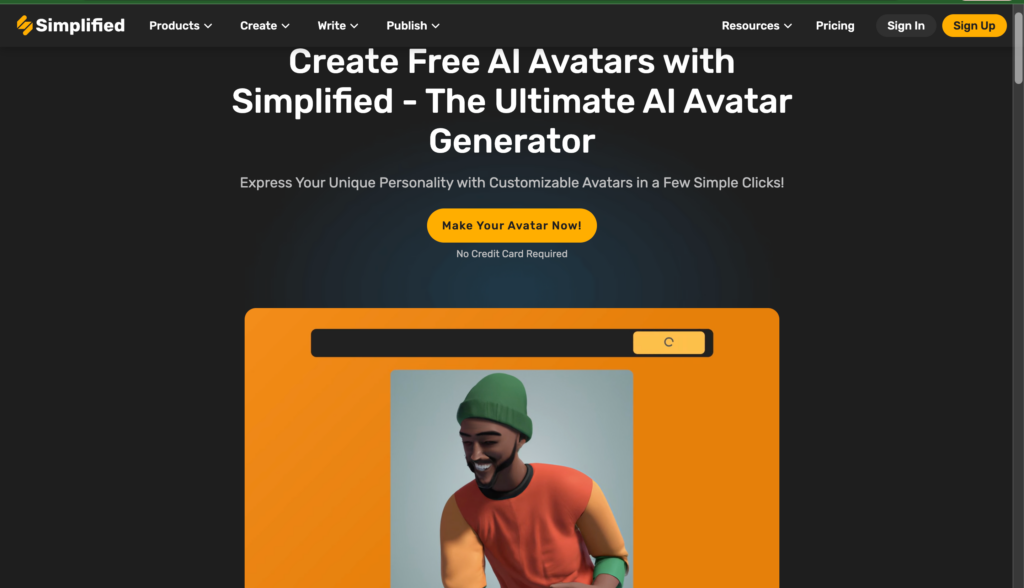 Simplified's can help you create unique and impressive avatars to make an interactive impact on your audience. You can experiment with your avatar in several ways, like enhance a headshot or have some fun with a characterized photo! The generator offers a wide range of artistic stylings for you to explore with a fairly simple process, without a prerequisite of possessing technical skills or experience.
Pricing: Simplified's AI Avatar Generator is free to use!
2. Synthesia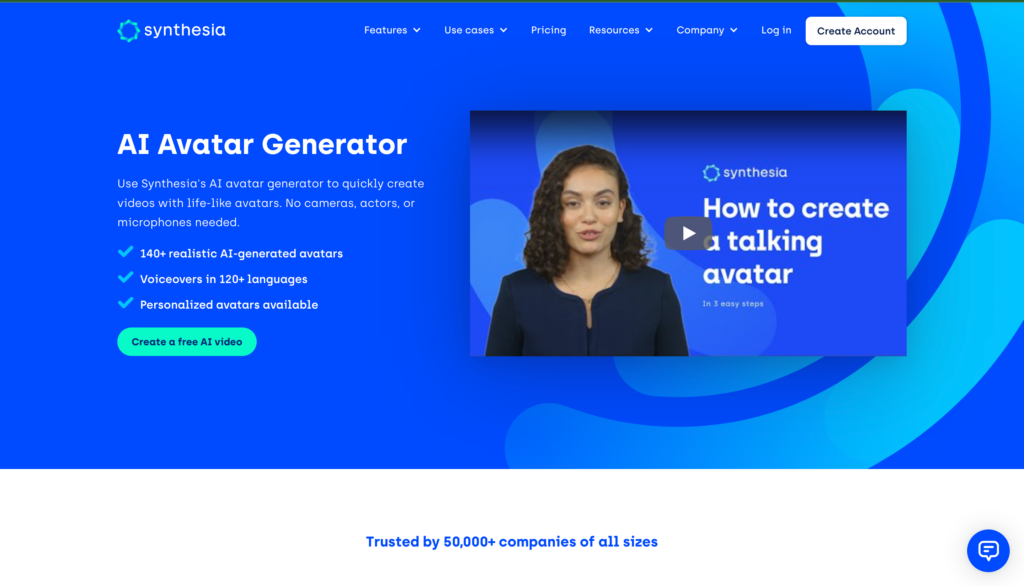 Synthesia is a great tool to try out if you're looking for life-like AI avatars for videos, unlike most AI avatar generators that focus on static images. You can create avatar videos for presentations, tutorials, online courses etc. There are a variety of languages that you can employ with a range of life-like avatars. You can also create custom avatars using small video snippets. For businesses looking to create AI spokespersons or mascots on a budget, Synthesia is a great customer-friendly tool to reach out to!
Pricing: Synthesia has a free version while the paid plans start at 22.50 USD per month.
3. Soul Machine: Digital People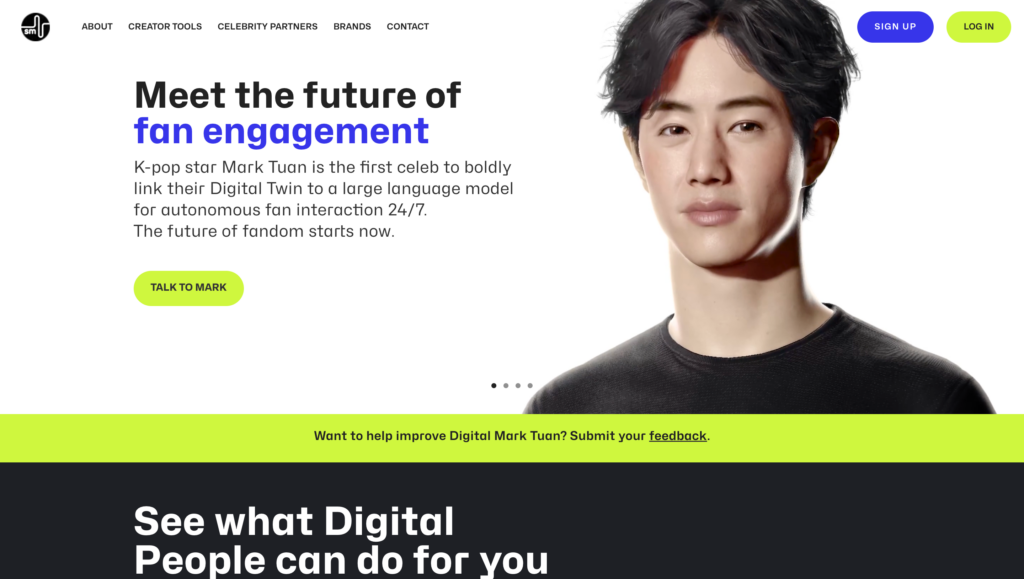 Digital People by Soul Machine are essentially CGI characters that imitate human interactions, powered by "Digital Brain". They speak and move very naturally and all responses are generated in real time. You can make use of these digital people to create virtual assistants, digital educators and agents, etc.
Pricing: Soul Machine's paid plan start at 39 USD per month.
4. Nvidia AI Avatars
NVIDIA's Omniverse Avatar Cloud Engine comprises of cloud-native AI microservices and workflows to help users easily create, customise and use avatars. NVIDIA combines Animation AI, Conversational AI and Recommendation AI solutions to help create 3D avatars that respond in real-time. These generated avatars can be used for all types of customer service interaction and give better business prospects and increased customer satisfaction.
Pricing: Early access to the Omniverse ACE is available for developers and teams, while others can register to join the early-access program.
5. Aragon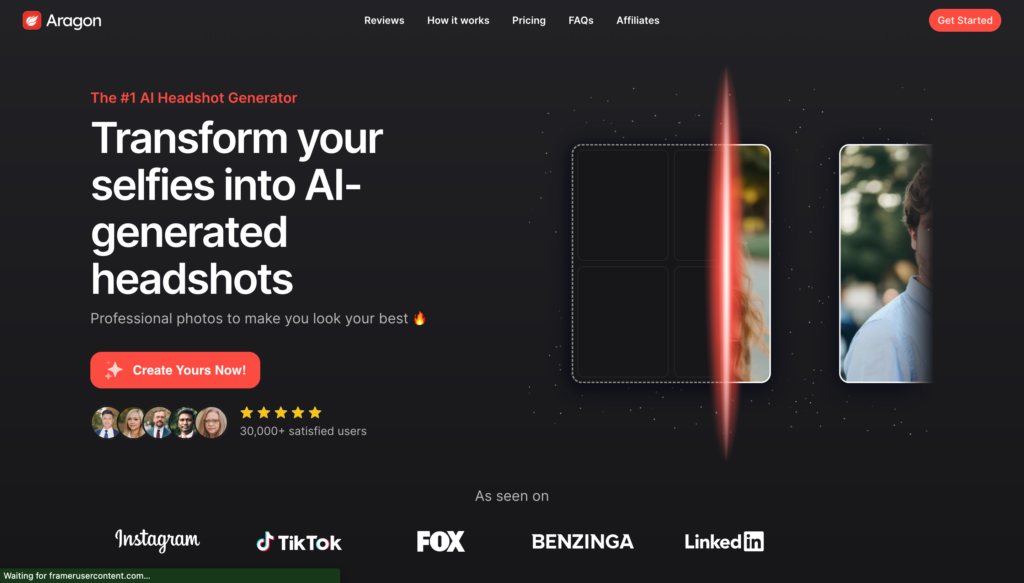 Unlike most AI avatar generators with a creative focus, Aragon produces AI-generated headshots and is business-focused. Aragon transforms your photos and selfies into perfectly retouched headshots, so users can upload their selfies or group shots watch Aragon transform them into perfect pictures. There are over 40 high-quality AI headshots to choose from, with a 120-minute turnaround time. Users can create up to 200+ AI headshots. 
Pricing: Aragon's packages start from 29 USD per person.
6. Fotor
Fotor's intuitive avatar generator works on both mobile and desktops, and users can select up to 15 selfies of their choice to generate their avatars. Moreover, it is a part of a range of photo and graphic design tools that Fotor offers. It generates up to 200 unique avatars. If you are looking for an avatar generator that is a part of a broad range of AI editing tools, Fotor is a great resource to try out.
Pricing: Fotor is free to use, while the Premium plans with additional features start at 10.99 USD per month.
7. D-ID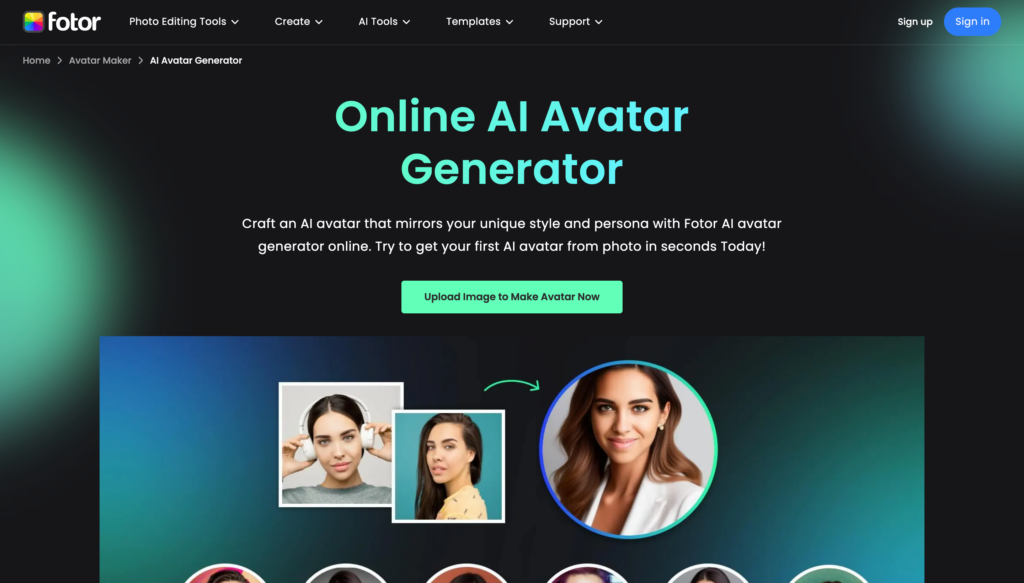 D-ID offers both cartoony and realistic AI avatars, but is best suited for the former. With simple text or audio inputs, users can generate photorealistic avatars using their Creative Reality Studio. It has over 119 languages and accent options, and users can customise the voice and style to make it more interactive and expressive.
Pricing: D-ID offers a free trial, post which the paid plans start at 5 USD per month.
Implementing an AI Avatar Generator into your Business
Once you have found the right AI avatar generator for your business, it's time to implement it. There are a few steps to follow to ensure that you are using your AI avatar generator correctly and efficiently.
1. Familiarise yourself with the features of the AI avatar generator. Take the time to understand how to use the platform and go through any tutorials or videos available.
2. Develop a strategy for using the AI avatar generator. Consider the type of avatar you will use for each business situation. Do you need a 2D cartoon character for advertising campaigns or a 3D virtual human for customer service?
3. Create a budget for the AI avatar generator. Set aside funds to cover the cost of using the service and any additional features you may need in the future.
4. Train your team to use the AI avatar generator. Ensure that everyone on your team knows how to use the platform and is familiar with the features and functions.
5. Monitor and optimise the performance of your AI avatar generator. Use analytics tools to track how well your avatars are performing in various business scenarios and adjust your strategy accordingly.