Video production can be a long and tiresome process that takes up too much time. Especially if you're a digital creator or someone who does video editing for a living, it can be a big hassle producing the perfect video. Often while editing videos, one of the recurring problems can be that of background noise. Even when you think you are in the quietest room and have a premium set up and/or equipment, you realise later that there's still some video background noise.
Another situation where you deal with background noise in videos can be in online meetings or seminars on Zoom. Or maybe you are taking online classes, even then background noise in your videos can make your videos look unprofessional.
But don't worry, you don't have to re-record the entire video. There are lots of video background noise removers available online that can help you easily remove the background noise from your videos!
In this article we will discuss not just video background noise remover tools but also other video editing tools to make this tiresome process extremely easy for you. Read on to know more!
Videos as Digital Mass-Media Content
Marketers are constantly searching for the newest technique to engage customers, and video marketing has become very popular. It comes as no genuine surprise, really. Due to their capacity to blend writing, aural, and visual elements, film and television have captured the attention of audiences for almost a century. The ability to view videos whenever and wherever you want is finally a reality thanks to advancements in technology and increased internet speeds.
And its visible in the way social media giants prioritise it too. Reels has become the go-to content on Instagram ever since it was released. YouTube Shorts are another example. But video can be a troublesome medium to master. This is why we've compiled a list of the best video tools for for you to help you make this process easy. But did you know AI can help you in generating videos as well? Read here to know more!
Best Online Video Tools in 2023
Here are some of the best video editing tools for you to try out in 2023:
VEED: Remove Background Noise and Edit Videos Easily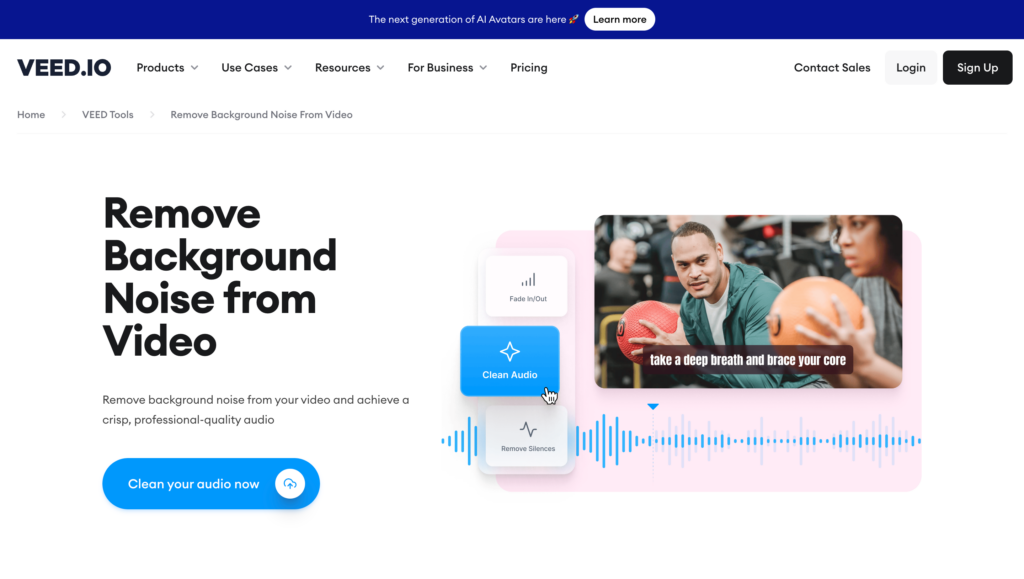 VEED is an all-rounder video editing tool that also makes use of AI to help you in your video editing process. Without sacrificing sound quality, its background noise remover can instantly clear your audio for online courses, business meetings, and Zoom recordings. Use VEED to eliminate any unwanted sound from your video. Make sure to provide your listeners or viewers with the greatest possible experience!
You can also use VEED's pro features to enhance your audio for your audience. Include sound effects, voiceovers, narrations, background music, and more. It has a collection of quality (royalty-free) stock music. It also offers a simple interface so you can split, cut, and rearrange your audio tracks rapidly!
Pricing: VEED is completely free to start, and its premium plans start from ~3 USD per month.
Kapwing: Remove Background Noise and Make Editing Easier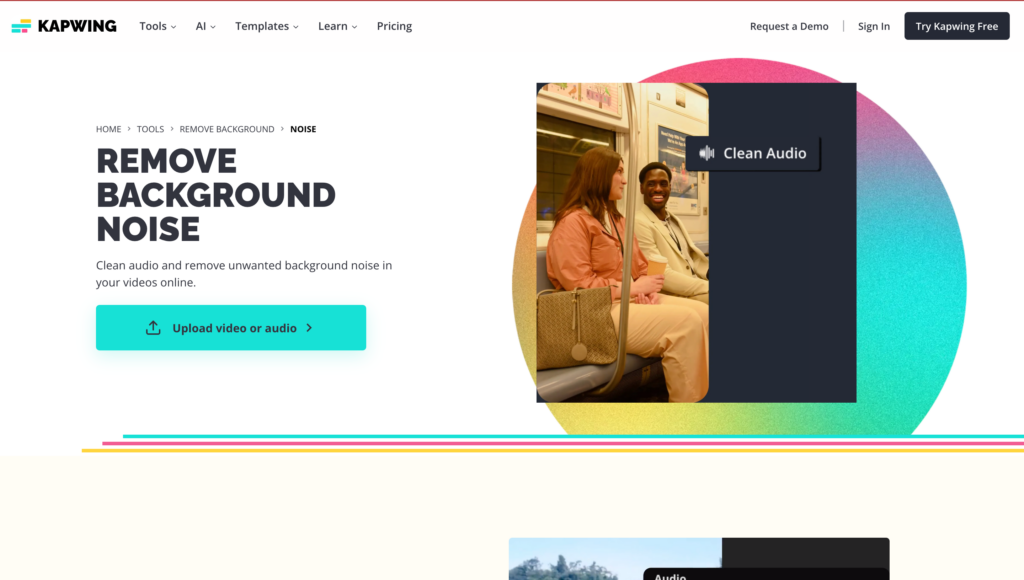 Kapwing is a cutting-edge video creation tool that enables teams to produce excellent content more quickly. Apart from being an overall tool for video making and editing, its Automatic Background Remover offers you audio intelligence by separating speech from background noise, reducing the harshness of popping sounds, and regulating loud noises in order to clean your audio.
Kapwing also offers a range of other features such as adding subtitles to videos, video resizer, background remover, collaborative editing, unlimited overlays, and a lot more! It is also completely free to start. Just upload a video and start editing. Supercharge your editing workflow with Kapwing's powerful online tools.
Pricing: Kapwing is free to start while the premium plans start at 16 USD per member per month.
Media.io: Collection of AI Editing Tools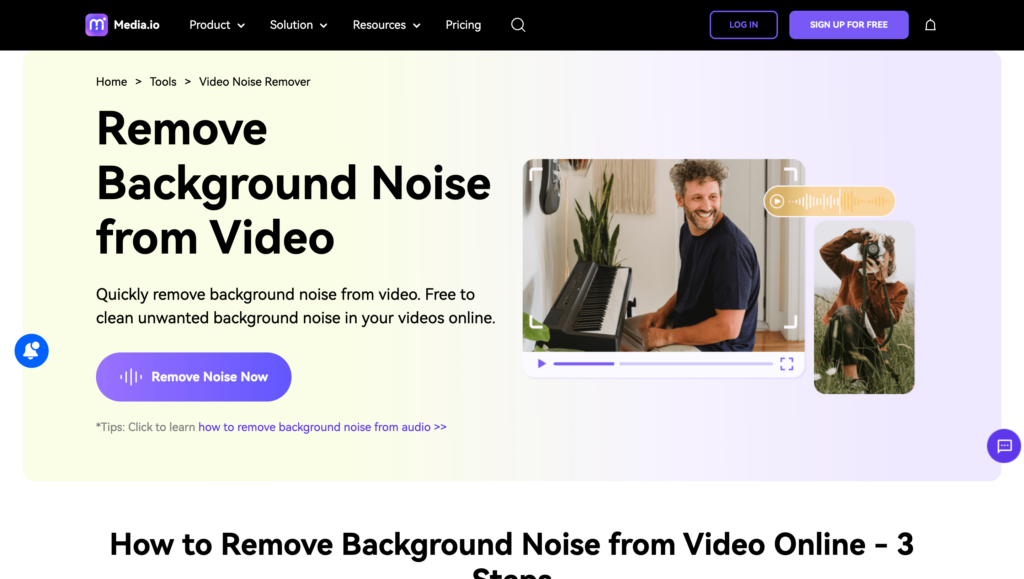 Media.io is not just a video background noise remover. It has a collection of AI tools, that too not just for video but also audio and photo editing. Using AI noise reduction technology, Media.io can clean up and minimise the unnecessary background noise in your video. Whatever the video format, Media.io can remove background noise without damaging the video.
In addition to that, it also has other features like adding subtitles, improving video quality and adding audio to videos. Level up your video quality with Media.io!
Pricing: Media.io offers a free trail version while the premium monthly plan is 19.99 USD per month.
Movavi: Overall Video Editor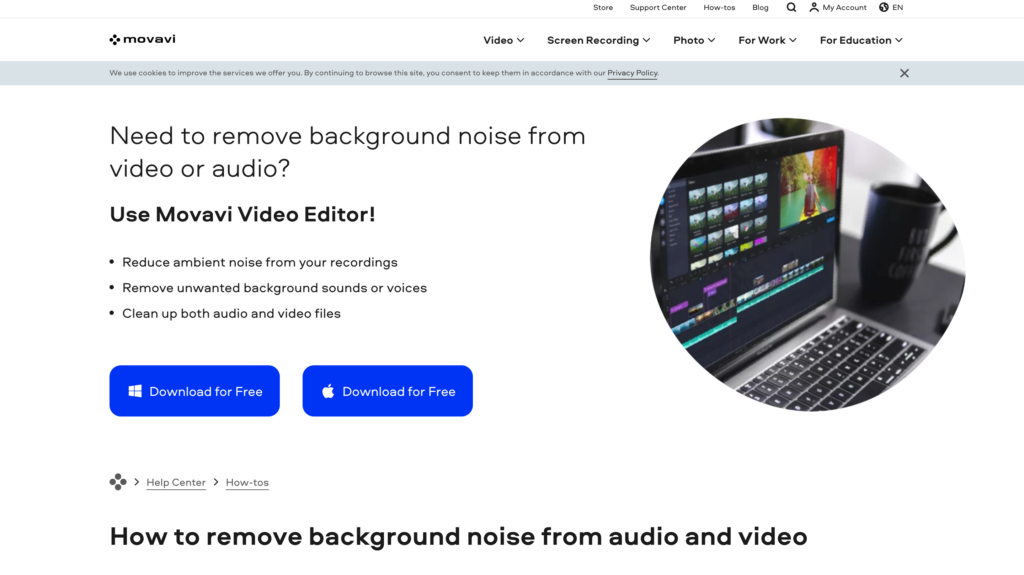 Movavi's Video Suite offers a range of video editing tools including a background noise remover to streamline your video editing process. It is an effective video editing app for Windows and Mac that can also be used for noise reduction in videos. With a few simple steps you can have a video with a clean audio.
Movavi is easy to use and claims to help users edit videos in under 20 minutes!
Pricing: Movavi is free to install for both Windows and Mac.
Arabia: Bulk Edit Videos Online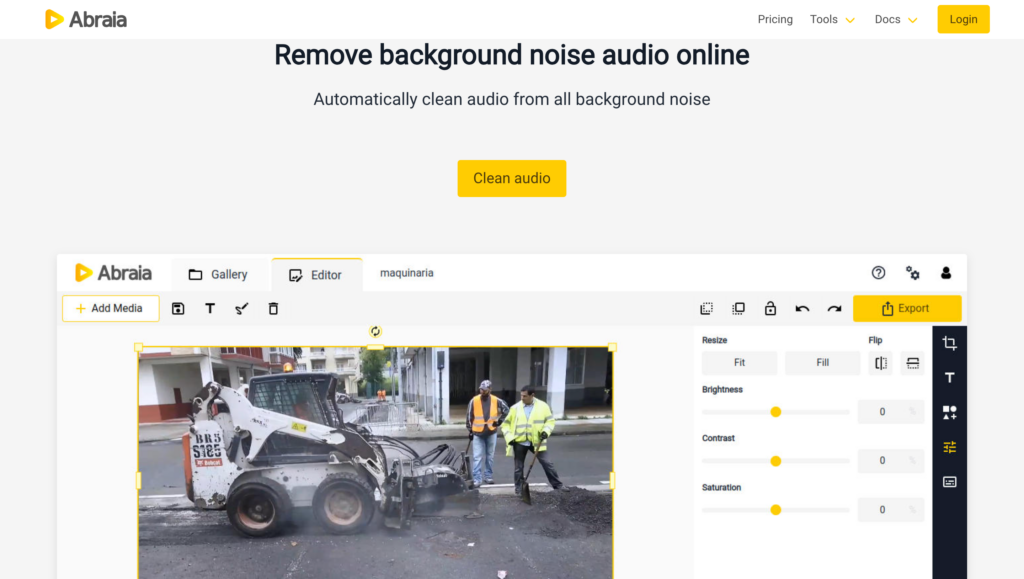 Abraia is another video editing tool that also has a background noise remover feature to help you clean your video's audio easily. You simply have to upload your video file and get the background noise removed automatically without installing any software. You can also add some background music to create professional quality videos directly from your browser.
Process all of your on the cloud videos in bulk using Abraia. Edit everything once, then process everything in the same manner. Edit your media files consistently so that they are prepared for publication and online product promotion on each of your social media and marketing channels. Videos may be easily created and optimised with Abraia for all of your marketing channels.
Pricing: Abraia's paid plans give you credits, and 2500 credits cost 9 USD.
Conclusion
All of the tools mentioned above are some that make the process of very easy, but they may still lack the features offered by Adobe and other professional video editing softwares. However, that being said, all of these tools are great for beginners as they don't require prerequisite video editing knowledge.
Happy video editing!