Social media has always been an essential tool for businesses and individuals alike to connect with their audiences. However, keeping up with the demands of creating engaging and relevant content tends to become overwhelming. This is where AI social media post generators come into play.
These tools use artificial intelligence algorithms to analyse trends, generate copy and graphics, and recommend hashtags and layouts for your posts. In this article, we will explore the top AI social media post generators to help you level up your content game in 2023. (Also read: Best AI social media management tools of 2023)
Get ready to revolutionise your social media presence with these super helpful tools!
AI in Social Media Content Generation
The use of AI in social media content creation has become increasingly important and holds many advantages.
AI social media generators assist you with producing and publishing content on social media sites. They help in producing social media ads and visual solutions in addition to organic posts. Aside from conserving time and other company resources, the entire procedure is automated and completed in a matter of seconds.
These AI generators are continuously learning. By scanning through multiple internet pages, the AI enables them to raise the quality of their contributions. In other words, it's often difficult to distinguish between a computer and a real writer. That's because the language used in these messages is alike to how we humans speak and write.
AI offers the ability to automate the content creation process, saving businesses and individuals valuable time and resources. With AI social media tools, users can input specific parameters and generate customised content based on those parameters. This can include catchy captions, attention-grabbing headlines, graphics and relevant hashtags.
All in all, AI social media post generators offer the following advantages:
Faster and smoother posting
Reducing margin of error in content
Easier content modifications and repurposing
Overall improvement in efficiency
5 Best AI Social Media Post Generators in 2023
Here are the five best AI social media post generators to consider in 2023:
1. Simplified
(All-in-One Application for All Marketing Needs)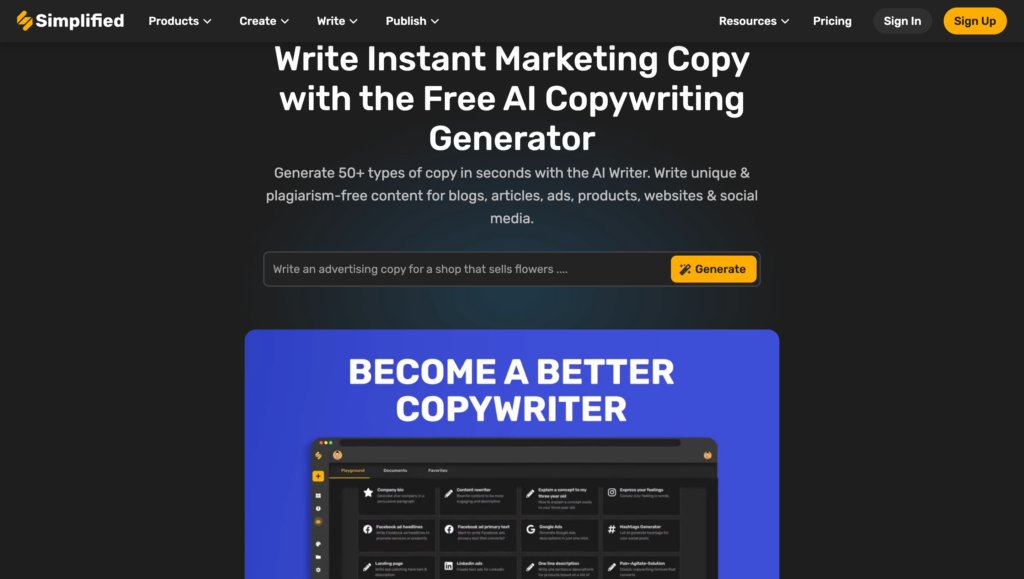 First and top in the list is Simplified, an all-in-one app for all your marketing and content needs. Simplified offers an AI writer and design tool, as well as a social media scheduling calendar to ease your process of creating content for social media and generating posts.
Its AI Writer offers multiple templates for you to choose from, while its Design tool also has an AI image generator to help you generate the perfect visuals for your social media copy.
And there's more. Simplified also has a free video editor in case you wish to produce videos. Teams can collaborate online on each of the projects while making use of AI to help them through it. It really is an all-rounder.
Pricing: Simplified has separate plans for different tool categories (Graphic Design, Video Editor, AI Writer, Social Media). Each category offers a free plan for individuals as well.
2. AdCreative AI
(Excellent for Social Media Marketing)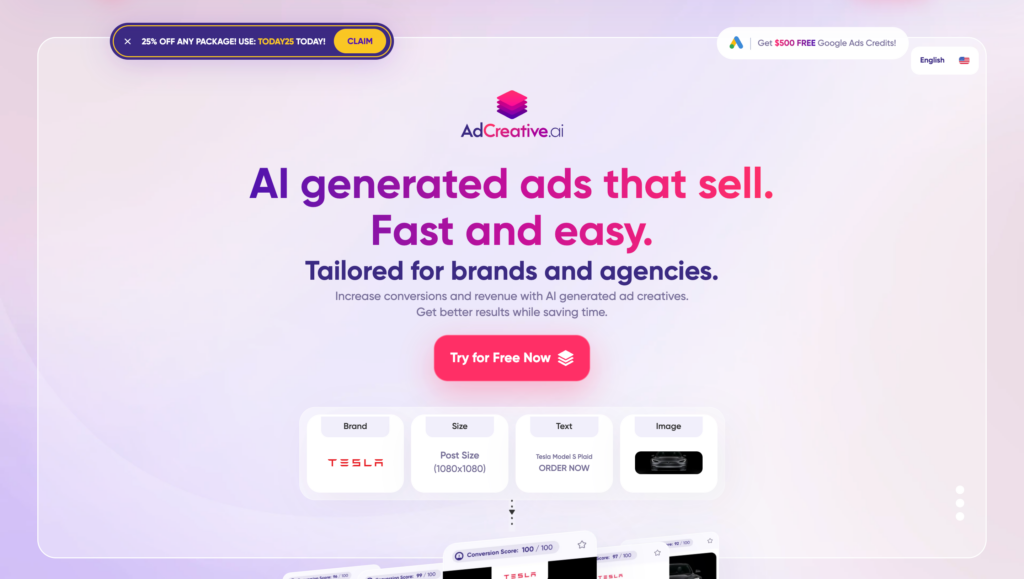 AdCreative AI provides a platform for AI-powered ad creative generation. It gives tools to quickly and consistently create social media post creatives that are engagement-focused, sales-focused, and conversion-focused ads, texts, and headlines.
It also enables you to view which creatives in your ad accounts perform the best, gain ideas from your top-performing creatives, and let the AI learn from your data to deliver more customised results.
Within the AdCreative AI platform, a variety of ad types are accessible for selection. Advertisers can alter the ad creatives by personalising them to reflect the tone and aesthetic of their brand.
Pricing: AdCreative AI offers a free 7 day trial with its subscription plans that start at 21 USD per month.
3. Copy AI
(Best for Writing Social Media Posts)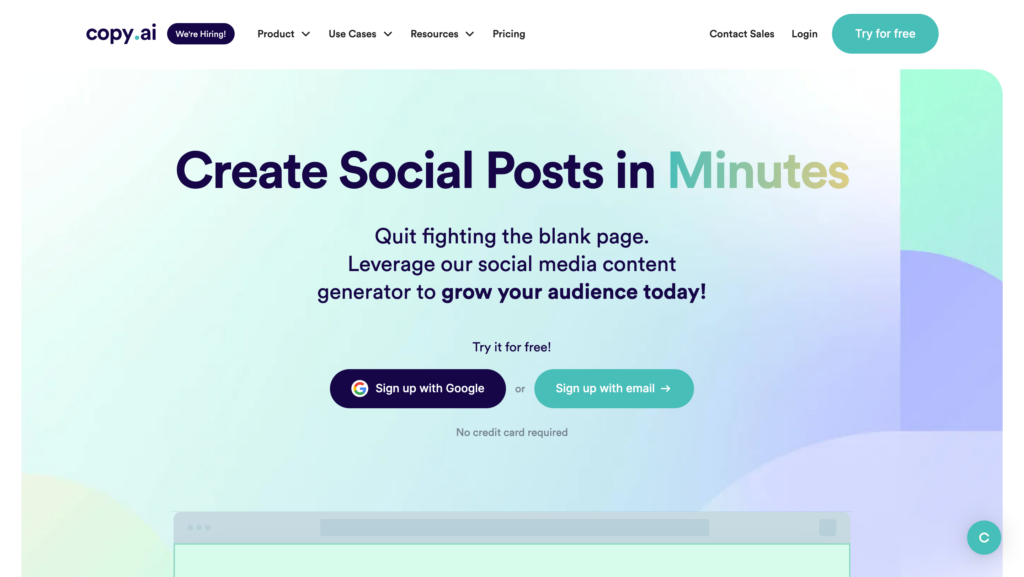 With over 7 million people utilising the application, Copy AI is a top tool for improving your content creation process. It has AI-powered writing tools that can produce high-quality, original, and on-brand copy in only a few seconds. Its offers over 16 AI social media templates that can be customised by the user.
Using a variety of speech tones, this AI authoring tool writes material for all social media networks with ease. Additionally, you can select the generation that appeals to you the most by looking at its various forms.
You may also use Chat by Copy AI and instruct it to create interesting social media posts in the manner you like. This program enables you to quickly develop accurate content by conducting its own research and analysing web pages and Google's top-ranking content.
Pricing: Copy AI offers a free forever lifetime plan of up to 2,000 words per month, while the unlimited content creation plan is for 36 USD per month.
4. Predis AI
(Best for creating compelling, AI-powered social media content quickly)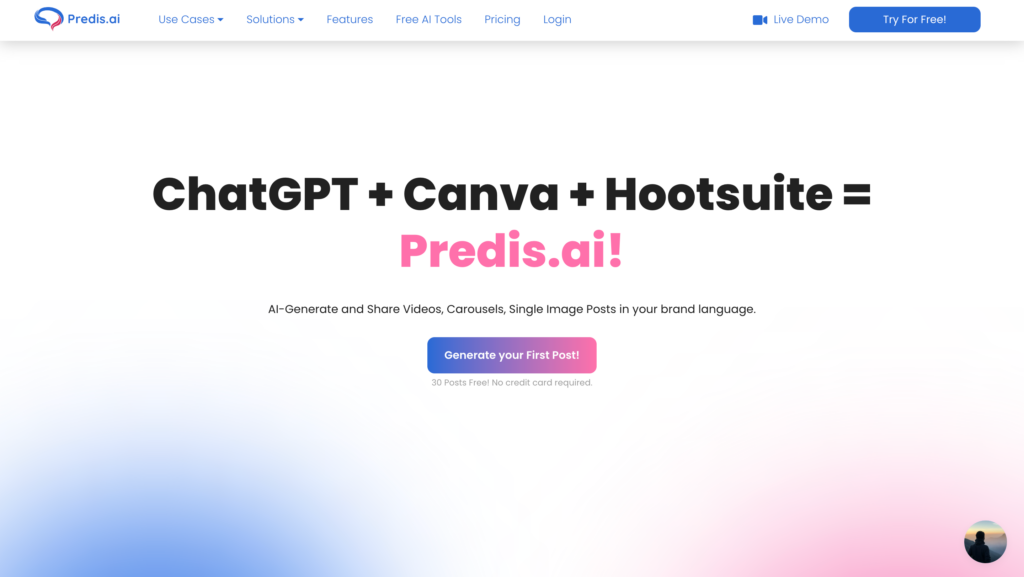 Predis AI is ideal for creating engaging, AI-powered social media content and increasing your brand's online influence. It combines a number of features that can aid your social media marketing.
Aside from text creation and editing, the tool can also be used to create graphics and carousels. Predis allows you to modify the tone of your copies and supports 18 languages.
The tool integrates with multiple social channels, making social publishing a breeze. It is compatible with Facebook, TikTok, Instagram, Twitter, LinkedIn, and Pinterest.
Predis AI is also an excellent choice for launching eCommerce campaigns, as it integrates with Shopify, Google My Business, and WooCommerce. So, if you're primarily utilising social media to sell, this is a top tool for you.
Pricing: Predis' plans depend on the number of brands you're managing; Solo for one brand with 120 AI-generated social posts is 20 USD per month.
5. Peppertype.ai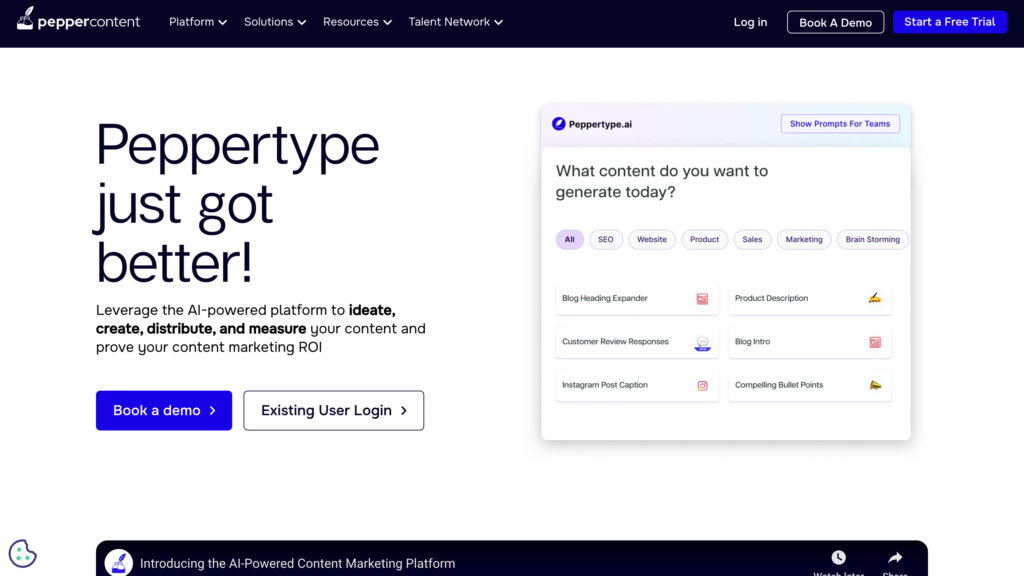 Peppertype.ai enables you to produce content for a wide range of social media posts. One of its standout features is that you can use the tool to generate different sections of long-form articles/blogs. This is very useful when generating long-form material for LinkedIn and Facebook.
The editing features, however, are what set this platform apart. After creating a post, you can optimise various areas of the text by revising and expanding/shortening sentences and paragraphs. Furthermore, the SEO helper transforms it into an excellent tool for enhancing the visibility and engagement of your social media postings.
Peppertype.ai can be integrated with Grammarly to streamline the entire content development process. The software can also be used to derive data-driven insights, measure readability, and execute plagiarism checks.
Pricing: Peppertype offers a free trial while the premium plan starts at 399 USD per month.
Conclusion
AI social media post generators offer numerous benefits for streamlining content creation and enhancing your online presence. They can save time and effort by generating ideas and text, giving you more time to focus on other important tasks. However, it's crucial to consider their limitations and ensure that you add your own personal touch to maintain authenticity and align with your brand voice.
It's also important to review and customise the generated content to ensure it captures the tone and brand voice that you want to convey. Contextual understanding and relevance are essential, so make sure to adjust the generated content to remain appropriate and accurate.
By leveraging AI thoughtfully and combining it with human creativity and interaction, you can create compelling and engaging content that stands out in the social media landscape and drives meaningful connections with your target audience.