Introduction
Artificial intelligence or AI has transformed the way we live and work, and its impact on the business world cannot be overstated. When it comes to creating compelling content, AI-powered bio generators are a game-changer. In today's online world, where a digital presence speaks volumes about who you are, a professional bio is more important than ever.
A well-crafted bio can help people stand out from the competition as well as attract potential clients, employers, or collaborators. It is important that your bio reflects your personality, values, achievements and skills.
A professional bio can be used for various online platforms, including websites, LinkedIn profiles, and social media accounts. It's really important to have a bio that captures your audience's attention and makes them want to learn more about you. This is where AI-powered bio generators can come in handy.
These generators use advanced algorithms to analyze your interests, goals, and voice, and use that data to generate compelling content in seconds.
There are so many online AI tools available online, so making a choice about the right tool to use can be tough. In this blog post, we will discuss the top 12 bio generators that will help you make a lasting impression. Keep reading to learn how to unleash the power of AI in your bio today.
With the help of AI, you can create a bio that is tailored to your unique voice and interests. These generators use machine learning algorithms to analyze your online activity and create personalized content that speaks to your target audience. By using an AI-powered bio generator, you can save time and effort while still creating compelling content that showcases your skills and achievements.
Things to Remember When Writing a Professional Bio
How you write your professional bio can greatly impact the way people perceive and approach you, and it requires attention to detail to make it stand out. These are the top 3 things to keep in mind when writing a professional bio:
1. Keep it concise and to the point: A professional bio should be brief, informative, and easy to read. Keep your sentences short and straightforward, and avoid using jargon or technical language that your audience may not understand.
2. Highlight your achievements and skills: Your professional bio should showcase your skills and achievements that make you stand out from the competition. Be sure to include relevant work experience, education, awards, and certifications that demonstrate your expertise.
3. Tailor your bio to your chosen platform and target audience: Your professional bio should be customized to the platform where it will be displayed and also for the audience you intend to reach. Consider the type of content your audience is looking for and the tone that will resonate with them. For example, a LinkedIn bio should be written with a professional tone and highlight your career accomplishments, whereas a bio for a personal website may be more conversational and showcase your personal brand.
To make your professional bio even more impressive, consider using an AI-powered bio generator to help you craft a personalized, attention-grabbing bio. With the right approach, your professional bio can help you build an online presence that attracts attention and sets you apart from the competition.
Best 15 AI Bio Generators That Will Help You Create a Powerful Impact
Simplified
Simplified's Company Bio Generator is the perfect tool for entrepreneurs who need to quickly create an attention-grabbing company bio. Its free AI Writer also creates clever and authentic bios for LinkedIn, Instagram, Twitter, and all of your favourite social media channels. 
Just select the Company Bio Generator template on their AI Writing tab, fill in the specifics, and you're good to go! Simplified's keyword-focused bio generator helps you list out your professional goals and responsibilities, engage with readers, level up your copywriting game, and beat writer's block.
Pricing: Simplified is free for personal use and has small team plans starting from 20 USD/month.
What their audience says:
"I truly appreciate the natural language processing that Simplified AI does. You do not need to understand how prompts work or spend much time learning how the tool works. It's very intuitive and allows you to customize your content by being involved in the creation."
"I LOVE how this platform is set up. Writing a blog or social media post in only a few minutes is easy; It also gives ideas for future content and posts. My favorite feature is the expanded prompt. The software will continue seamlessly with your train of thought by highlighting some content. This feature is an absolute lifesaver when trying to produce content in a short period. The platform takes editing and improving your words to the next level. I am blown away!!"
Jasper.AI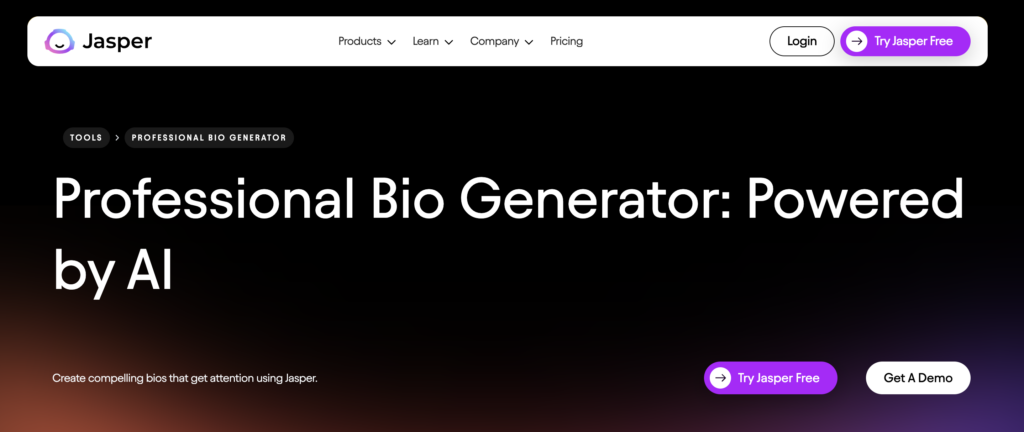 Jasper.AI has several bio templates with multiple features to help you craft the perfect bio for your social media platforms. Once you input your data, its AI algorithms analyze and recommend fixes to make your bio read smooth and accurately reflect your true self. 
Jasper generates a draft bio after you enter your information and you can quickly customize it as you need. It also has several templates to optimize your bio for major social networks.
Pricing: Jasper is free for 7 days and then has plans starting from 39 USD per month.
What their audience says:
"Jasper.ai is a cutting-edge AI-Power Assistant which really helps me save time and increase productivity. One of the things that I really appreciate the most is the ability of Jasper to generate high-quality relevant content and provide writing & re-writingsuggestions as well as perfect Outlines for Concepts, Blogs, Videoscripts etc…Overall, Jasper offers a wide range of features and benefits that can make it a valuable tool for individuals and businesses looking to streamline their workflow and optimize their productivity in writing."
"Jasper is an excellent AI writing assistant. It takes my words and turns them into clear sentences, helps me develop new ideas, and breaks through writer's block. However, Jasper's output depends significantly on your input. So for the best results, give Jasper concise instructions. The upsides of Jasper are that it is affordable, and you can earn non-expiring credits by attending short courses. Plus, it's convenient and reliable – I control the result. So it's the perfect tool for any written project."
Rytr

Rytr's bio generator is very easy to use for building an impressive personal or professional bio in a few minutes. It makes use of its knowledge of more than 10% of the internet to write a compelling and creative bio for your needs.
Its profile bio generator template offers 40+ use cases and generates compelling content in no time.
Pricing: Rytr has a free plan that allows users 10k characters per month and the paid plans start from 9 USD/month.
What their audience says:
"Rytr is an impressive AI writing assistant that offers a wide range of features and tools to help users generate high-quality content effortlessly. The platform is user-friendly and intuitive, making it easy for beginners to get started. The output generated by Rytr is accurate and engaging, making it an excellent tool for content creators and students that needs helps.Review collected by and hosted on G2.com."
"I've been using Rytr for a few months now and I'm absolutely in love with it. It's incredibly intuitive and easy to use, and the quality of the content it generates is top-notch. I've tried other AI writing tools before, but none compares to the speed, accuracy, and convenience that Rytr offers. It's definitely the best AI writing tool out there!"
Copy.AI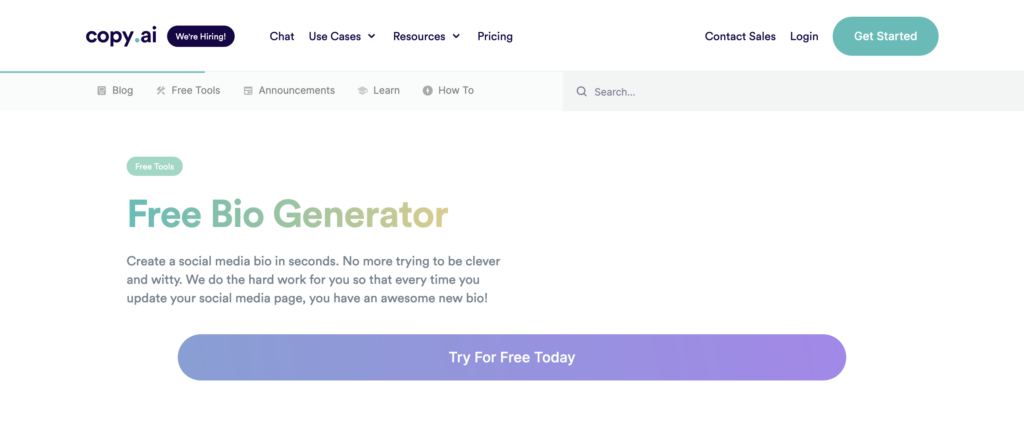 Copy.AI is a popular tool that makes use of AI to create several types of content, including personal or professional bios. You are required to just answer a few questions about yourself and Copy.AI's bio generator will write multiple unique and engaging bios in minutes!
Pricing: Copy.AI is free for individuals and has team plans starting at 36USD/month.
What their audience says:
"I'm personally using Copy.ai. It is the best tool for writing copies. It can produce engaging text across various formats and styles, including blog posts, social media captions, product descriptions, or creative storytelling."
"The most helpful thing about Copy.ai is that it's incredibly accurate. I've used it for a variety of purposes, but I use it almost exclusively for writing blog posts and social media posts, and it consistently delivers material that's well-written, engaging, and on-brand."
Picsart

Picsart Bio Generator is a creative tool that can help you craft compelling and memorable bio for your social media. It prompts you to enter basic details about yourself including your interests, goals and accomplishments, analyzes this information and generates a personalised bio. It also offers a variety of styles to help users decide the best suited option.
Pricing: Picsart's Social Media Bio generator is free of cost.
Nichesss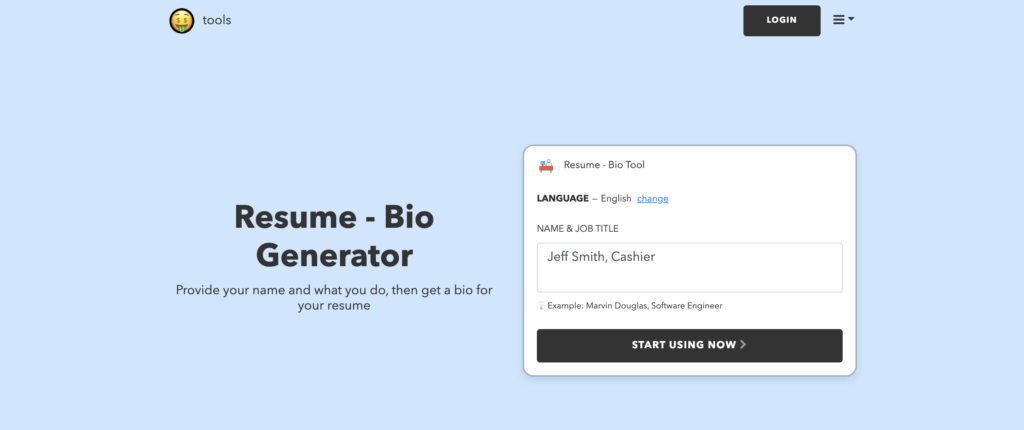 Nichesss Bio Generator is yet another innovative tool that helps users craft professional bios. It analyses the information provided by the user to then craft a personalised, customized bio unique to fit yor needs. It is a suitable tool for social platforms such as Facebook, LinkedIn, Twitter and Instagram.
Pricing: Nichesss offers a free trial, after which the plans start at 19 USD/month.
What their audience says:
"I love the many tools available that allow me to generate content qucikly. It's also a fantastic brainstorming tool when I'm alone, as it always allows me to get ideas quickly that I can adjust later."
"I love the unlimited AI generations & variety of tools offered."
INK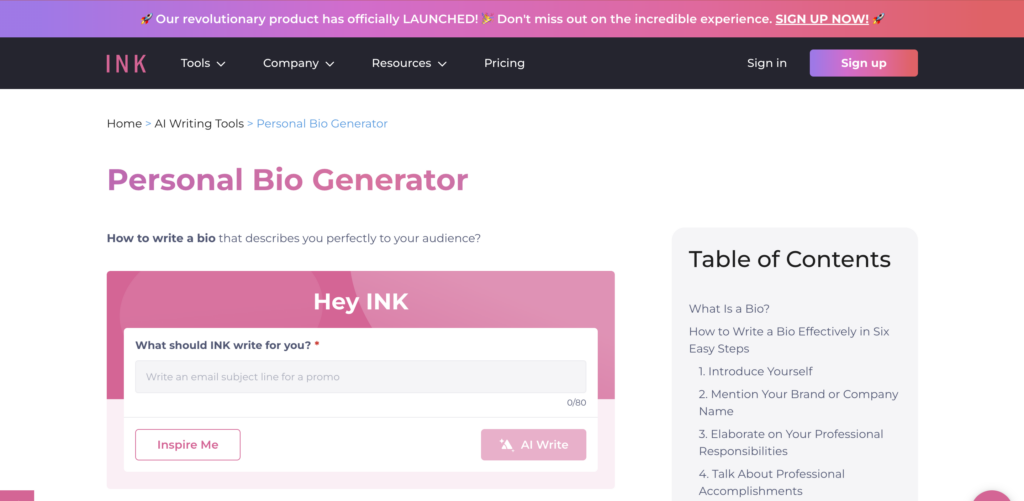 INK offers a personal bio generator that is a quick and easy tool to help users create professional bios. It requires you to enter details such as name, skills, interests etc and INK's tool will generate a bio for you.
Pricing: INK is available for free and the professional plans start from 39 USD/month.
What their audience says:
"One of the standout features of INK For All is its AI-powered content optimization. The tool analyzes your content and suggests changes to improve readability, SEO, and engagement. It's like having a personal editor right at your fingertips!Another great feature of INK For All is its content briefs. If you struggle to develop ideas for your next piece of content, the tool generates content briefs tailored to your niche and target audience."
"The Ai integration works seamlessly when combined with manual input. I've used the premade templates for creating headers for blog posts and youtube videos, and they've been incredible."
Neural Text Bio Generator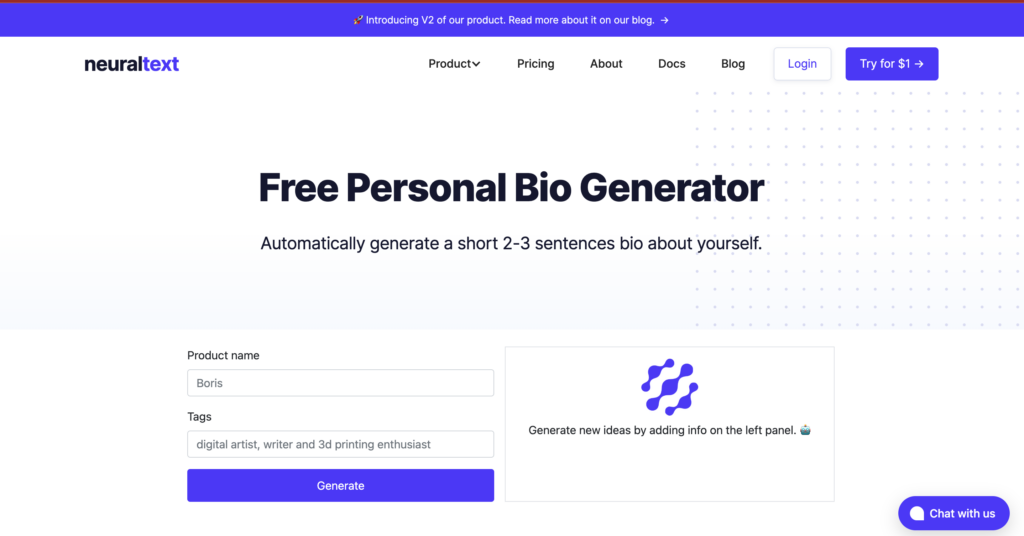 Neural Text Bio Generator is another advanced AI tool to help you craft professional, impressive bios in no time. You have to answer a few questions about yourself such as your goals, accomplishments and skills, post which it will craft a bio highlighting all of this.
Pricing: Neural Text Bio Generator is free of cost.
What their audience says:
"It has most of the required features for writing: keyword and topic research, clustering, automated outlining for blog ideas, AI text generation for long-form editing, on-page scoring, and benchmarking."
"As an entrepreneur of a small business, AI content writing is very attractive to me. NeuralText helps me come up with content for blog posts, email subjects, etc. Sometimes, you just need a push in the right direction to get writing – NeuralText does this brilliantly."
Writecream Bio Generator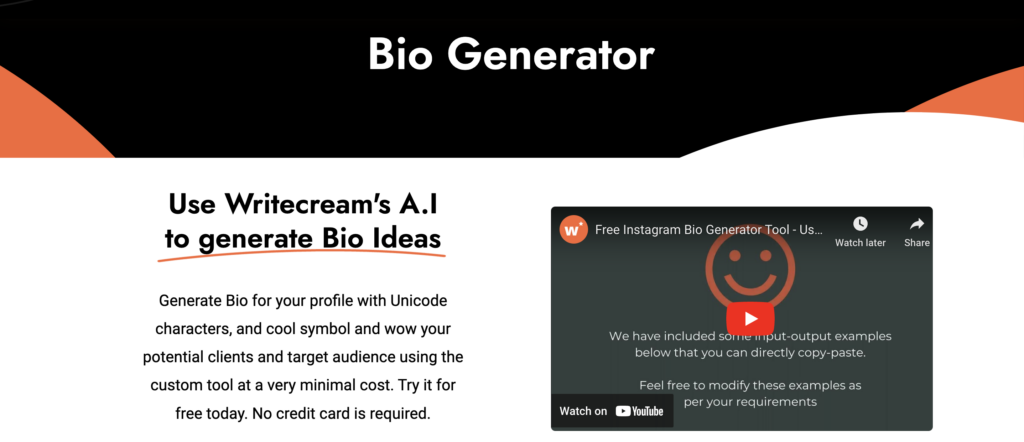 Writecream Bio Generator generates professional and creative bios after analyzing the data you input. It can generate bios in various styles with several different word counts to suit different social media platforms.
Pricing: Writecream's Bio Generator is free to use.
What their audience says:
"I recently tried WriteCream, an AI content writer, and I have to say, I was pleasantly surprised by its capabilities. The platform is user-friendly and the interface is intuitive, making it easy for anyone to use, regardless of their writing skills or technical expertise."
"The user interface is straightforward and effective. The long-form writer is one of the best features and would help writers write quality content. The ability to write in multiple languages is an added advantage."
Writeme

Writeme's Bio Generator is another one of these tools that helps craft professional and bios. It allows its users to pick one of the writing tones, input the main idea, and then generates a uniquely crafted bio for you to use.
Pricing: WriteMe has a free version and offers a free trial, while the paid version starts at 10 USD/month.
What their audience says:
"It helps a lot when you need to write text content. It does not matter if it is ads, marketing, blog or email. You only choose an attitude and the content type and add keypoints. WriteMe handles the rest."
"This is truly the best tool I have come across when creating ads at my brand. The price and ease of use are mind-blowing, and I can't see myself ever not using this!"
Hypotenuse AI Bio Generator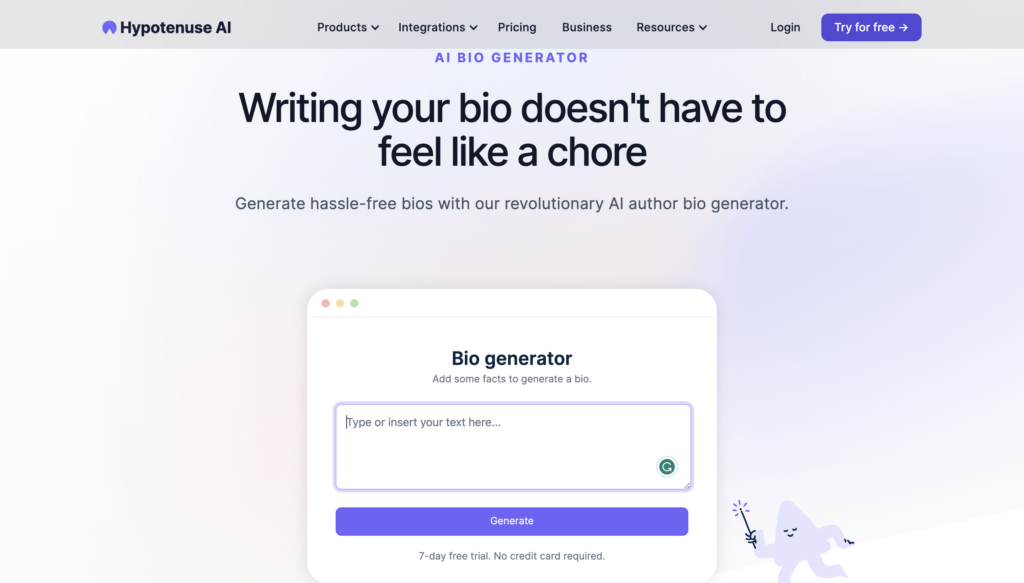 Hypotenuse AI Bio Generator asks you to provide basic details such as name, job title, company, accomplishments, interests etc, and then analyzes this information to produce a unique bio to fit your needs. It works for various platforms and the generated bio includes all your necessary information.
Pricing: Hypotenuse AI offers a free 7-day trial post which the plans start at 24 USD/month.
What their audience says:
"The tool is probably one of the best I've tried related to content creation with AI. Customer care is fantastic and quick to resolve issues."
"With one sentence about the topic, Hypotenuse gives me a brilliant outline from which I can research the subject more thoroughly."
Starter Story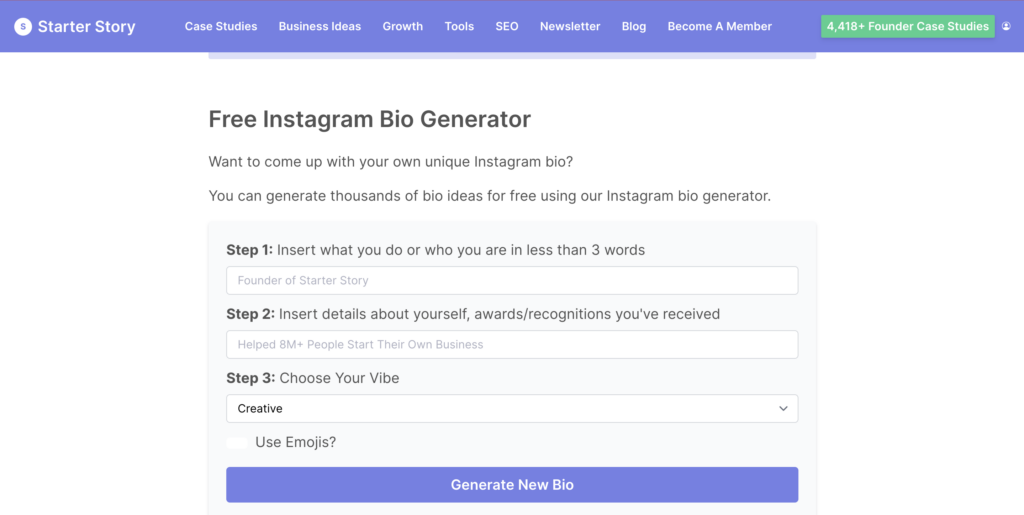 Starter Story has a free Instagram bio generator that helps you create outstanding social media platform bios in minutes. After you answer a few questions about your experiences and goals, it will produce a 150-character bio to fit your needs.
Pricing: Starter Story's Bio Generator is free of cost.
Some Examples of Outstanding Bios to Inspire You
Now that you know what to write in your professional bio as well as the right tools to try out, read on to find some examples we got from LoginRadius to inspire you further!
Mark Levy
"Mark Levy is the founder of Levy Innovation, a marketing strategy firm. David Meerman Scott has called him "a positioning guru extraordinaire," and Debbie Weil referred to him as "a horse whisperer for writers and business thinkers." He has written for The New York Times, and has written or co-created five books. His latest is a revised, expanded, and re-subtitled edition of his bestseller, Accidental Genius: Using Writing to Generate Your Best Ideas, Insight, and Content. Mark also creates magic tricks and shows. His work has been performed Off-Broadway, in Las Vegas, and on all the major television networks. Visit him and read his blog at levyinnovation.com."
Ann Hardley
"Ann Handley is a veteran of creating and managing digital content to build relationships for organizations and individuals. Ann is the author of the Wall Street Journal bestseller Everybody Writes: Your Go-To Guide to Creating Ridiculously Good Content (September 2014, Wiley) and co-author of the best-selling book on content marketing, Content Rules: How to Create Killer Blogs, Podcasts, Videos, Ebooks, Webinars (and More) That Engage Customers and Ignite Your Business (2011, Wiley). She is the Chief Content Officer of MarketingProfs; a LinkedIn Influencer; a keynote speaker, mom, and writer."
Lena Alexon
"__When human beings experience trauma or severe life stressors, it is not uncommon for their lives to unravel. My great passion is bringing healing to people who have been through a traumatic/stressful experience. I help my clients, who include children, adults and families, to find healthy perceptions of themselves and strengthen their relationships so they can know themselves as peaceful, complete, whole and safe.
I know that no single approach is the right one for every individual, and so I have been trained in a range of modalities including Relational Gestalt Therapy, Gestalt Play Therapy, Somatic Experiencing and NARM somatic approaches to the treatment of trauma
My educational background includes a MA in Counseling Psychology and a Doctor in Clinical Psychology from Ryokan College in Los Angeles. I have a B.A. in Psychology from the University of Stockholm, Sweden a graduate certificate in Gestalt Psychotherapy from the University of Derby in the U.K.
Call or Email Lena Axelsson for a free phone consultation now – (831) 216-6727."