Social media has always been a crucial tool for businesses to engage with their customers and promote their products or services. That being said, managing multiple social media accounts can be time-consuming and overwhelming. This is where AI social media management tools come in.
AI social media management tools are software platforms or applications that use artificial intelligence and machine learning technologies to automate and streamline social media marketing tasks. These tools provide marketers with advanced features and capabilities that help them manage, monitor, and optimise their social media presence more efficiently.
They leverage AI algorithms to automate repetitive tasks, analyse data, and generate actionable insights. By doing so, these tools enable you to optimise social media tasks and focus on strategic planning/creative content creation, rather than spending countless hours on manual tasks. (Also read: Best AI content writers)
In this article, we will explore the best AI social media management tools that can make your life a breeze.
Benefits of AI Social Media Management Tools
Some of the key features and functionalities offered by AI social media management tools include:
Scheduling and posting: These tools allow users to schedule and publish content across multiple social media platforms in advance. Marketers can create a content calendar, plan their posts, and automate the publishing process. This ensures a consistent and timely social media presence.
Content curation: AI social media management tools use machine learning algorithms to curate relevant and engaging content from various sources. They can suggest articles, images, videos, and other types of content that align with the brand's voice and target audience, saving time and effort in content discovery.
Social listening and sentiment analysis: They monitor social media platforms for mentions, keywords, and hashtags related to the brand or industry. They analyse the sentiment of these conversations, providing valuable insights about audience's opinions, preferences, and sentiment towards your brand.
Analytics and reporting: They generate comprehensive reports and analytics that help marketers measure their social media performance. They provide insights on engagement rates, reach, impressions, follower growth, and other key metrics, enabling marketers to track their progress and make data-driven decisions.
Automated responses and chatbots: Some AI social media management tools incorporate chatbot capabilities, allowing businesses to automate customer interactions and responses on social media. Chatbots can provide instant answers to common questions, handle customer inquiries, and deliver personalized experiences without human intervention.
5 Best AI Social Media Management Tools in 2023
Here are the 5 best AI social media management tools in 2023 to make your life easier:
1. Simplified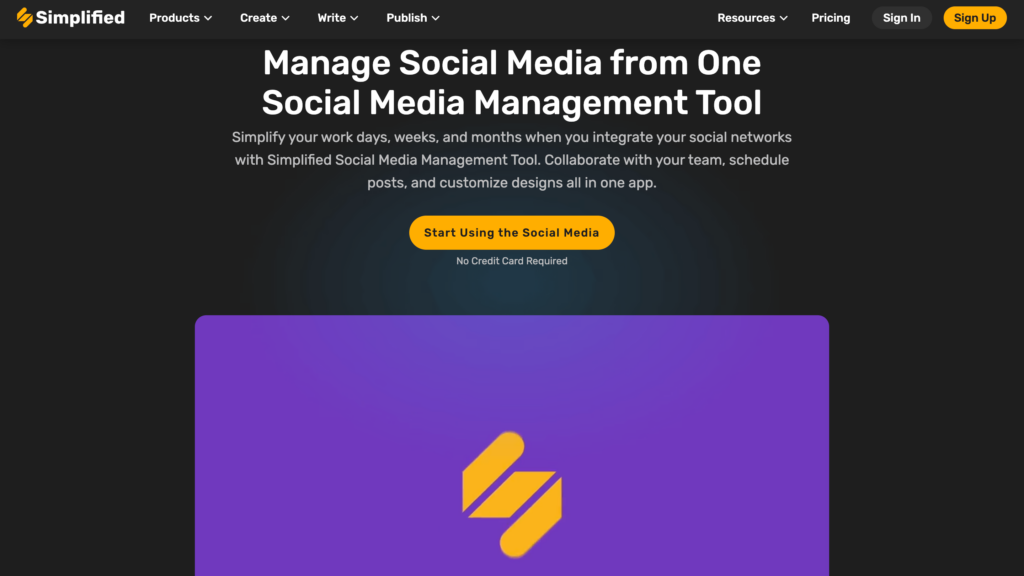 Sitting at the top of the list, Simplified is an all-in-one social media tool to meet all your content and marketing needs. Apart from their AI content and graphics generators, Simplified also offers a social media management tool that can help you integrate your social networks, collaborate with your team, schedule posts, and customise designs all in one app.
Simplified allows you to tag, comment, and assign work to team members to create a seamless workflow. You can even edit posts as a team to finalise designs and written content effortlessly.
You can manage multiple social accounts from one easy-to-use interface and easily deliver images, videos, descriptions, and ad campaigns. Create, schedule, and post all your online content with Simplified's free design, AI writer, and social media management dashboard.
You can schedule over 10,000 posts with preset posting times. The scheduler's calendar view and timeline view can be used to see all your content. What's more, you can also browse and reply to all of your social media messages, comments, & mentions in one place.
Pricing: Simplified's social media plan has a free version, while the premium plans with added features start at 11 USD per month.
What the users say:
Over the past few years, I have been using different tools to manage my business and my client's businesses. A different tool for AI writing, a different tool for graphic designs, and a different tool for social media management. The fact that Simplified simplifies everything into one tool – and for free – just makes this so much cooler!
I love the important features needed for social media marketing. It is really helping the small business out there handle social media. Also, support is amazing!
2. Sprout Social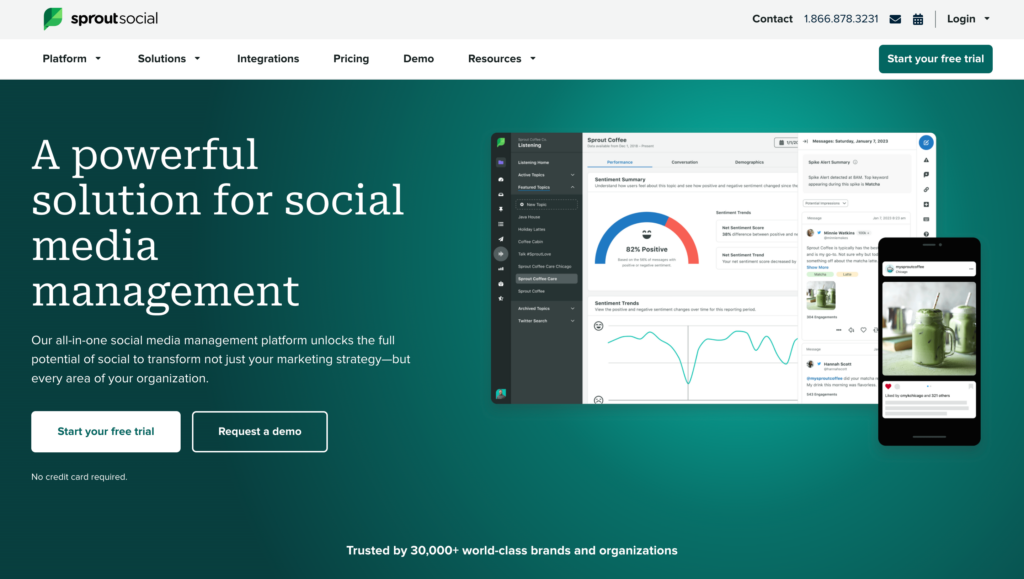 Known for its social listening and sentiment analysis capabilities, Sprout Social helps marketers monitor brand mentions, keywords, and audience sentiment. It provides valuable insights for informed decision-making.
Its "Social Listening" is a fantastic feature that makes use of the influence of international conversations through AI-driven technology.Thousands of unedited views, opinions, and feedback can provide you with insightful information that can help you improve your plan.
Through the Sprout Social dashboard, you can view and reply to posts that are addressed to your business. Sprout administrators can control direct communications on the platform as well.
Sprout can also evaluate the wording and sentiment of a message in both dashboard and direct message view and offer a suggested auto-response that you can use or modify.
Pricing: Sprout Social's Standard plan starts from 249 USD per month.
What the users say:
My skills as a marketer have greatly improved as a result. The importance and novelty of Sprout Social's impact on evolving marketing goals cannot be overstated. It includes everything I need to streamline my social media management in one convenient location. It has a steep learning curve, but I was able to master its features quickly.
Sprout is really helpful for community management, scheduling posts, and analyzing social data. What I like the best is that they continuously update the platform as social media channels evolve. It's really user-friendly while still having a good amount of organizational flexibility.
3. Buffer
Buffer is another widely used AI social media management tool that offers scheduling and posting features. It allows users to plan and automate their social media posts across multiple platforms, ensuring a consistent and timely presence.
Buffer is especially great for multichannel campaigns as it helps you create content arcs for a single subject or goal. You can enhance the value of your feed for followers by fusing your most recent posts with insightful older ones. By doing this, your best content will be visible to new followers instantly.
Buffer provides a workflow that uses each of your content ideas to create multiple posts for all social media accounts. When the time comes, you can choose the best concepts, polish them with the AI text generator, prepare and schedule them for posting across channels.
Pricing: Buffer's free plan is available for up to 3 channels. The Essentials plan starts at 6 USD per month per channel.
What the users say:
I find Buffer to be an incredibly powerful and easy-to-use tool for managing my social media presence. It's seamless integration of various features, including texting images before sharing them on any network or scheduling posts across multiple channels, makes it a breeze to use
Buffer is a fantastic social media management platform. Currently we are using buffer for creating, publishing and scheduling of posts across our multiple social media platforms. Buffer has great chrome plugins and aslo I like aslo how we are able to post directly into Instagram. It easy to track schedule post using this platform and their pricing is very fair.
4. Brandwatch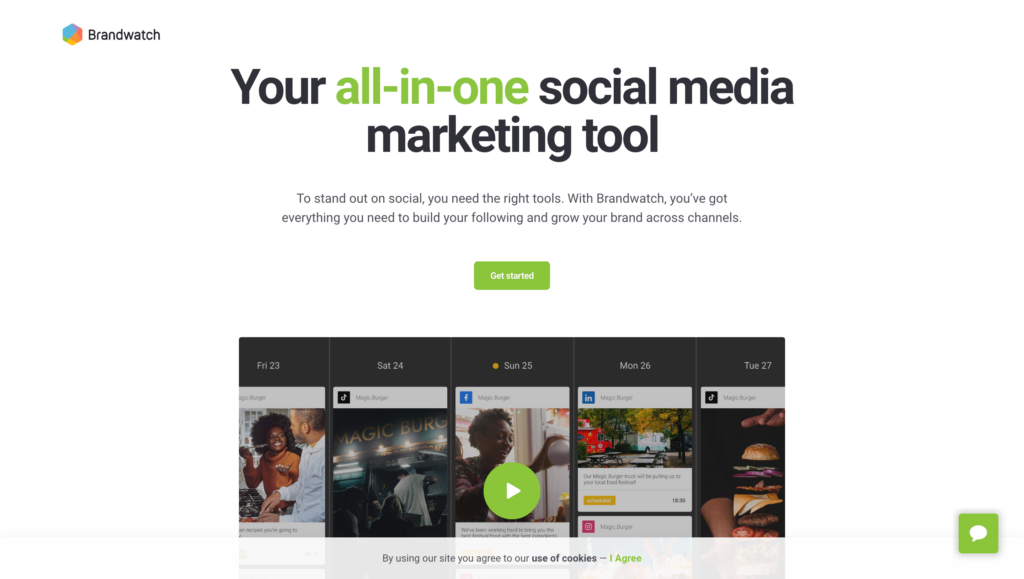 Brandwatch is also a multi-featured AI social media tool that also offers social media management. You can integrate multiple social profiles on the platform and its social media schedule can help you keep organized and productive, from daily updates to extensive campaigns.
All customer interactions like messages and Tweets are funnelled into a single Social inbox so you can answer everything from one place. You can get statistics about your audience, interactions, reach, and social share of voice. You can keep also tabs on which articles your various audience segments find most engaging.
Brandwatch also lets you monitor what people are saying about your brand through 100 million online sources, and spot emerging trends.
Pricing: You can book a meeting with the Brandwatch team through their website to get quotes for their social media management plans.
What the users say:
An easy-to-use tool with every social media management function I need to run multiple accounts across multiple channels efficiently. 'Publish' and 'Measure' are the main two sections that I use every single day
This is a complete solution allowing you to schedule posts, check performance and easily view and respond to comments. Ability to add tags and filter based on specific tags makes tracking specific posts easy.
5. Vista Social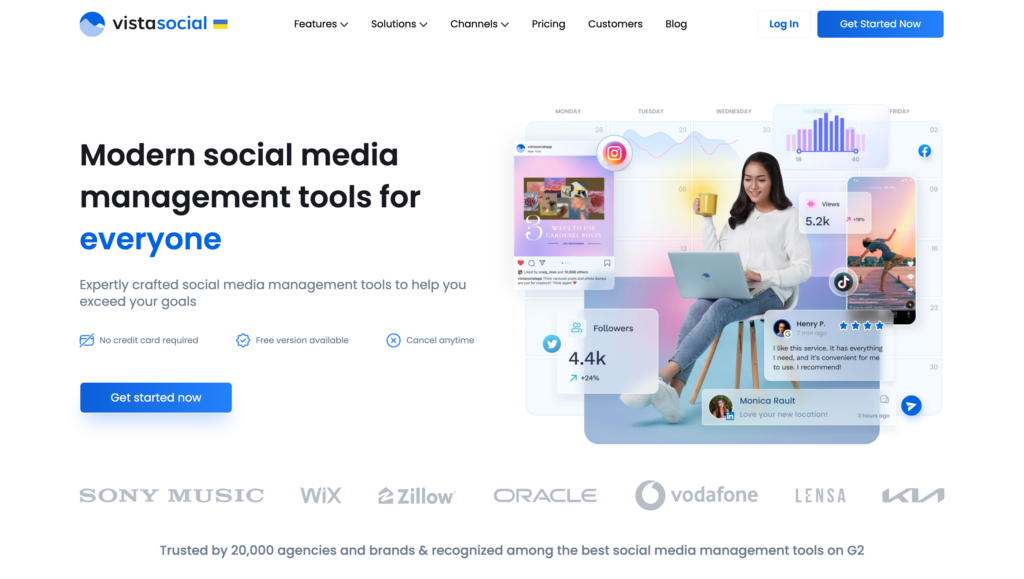 Vista Social is a great AI social media management tool for connecting lots of social media channels together. The app is an all-in-one because of its comprehensive feature set. Its features includes post scheduling, audience chat, review tracking, and TikTok/Instagram feed planners for the aesthetic-lovers.
You also benefit from its AI features on the content side. Once you finalise the main idea, you can use the AI text generation features to lengthen or shorten the text. You can then add this text to each post designed for a specific platform.
Pricing: Vista Social has a free plan available for limited posts per month and profiles. The paid plans start at 15 USD per month for 5 profiles and 3 users.
What the users say:
This tool is incredibly innovative, and the User Interface (UI) is pleasantly simple and easy to use. What I particularly love about this app is its all-in-one functions, allowing you to manage everything simultaneously. Moreover, you can seamlessly connect all your social media accounts and handle them with ease using Vista Social. The convenience of using just one app or tool for all these tasks is simply remarkable!
As a social media manager, it's imperative that you will be opening a lot of tabs in your browser whenever you're working for your clients' socials. I've been there. It's tedious but you have to do it. But with Vista Social, I was able to do my content with ease. Almost everything I need is in there!