Most successful and aspirational business professionals possess one skill set they value more than most: effective communication. They know how to structure their ideas and thoughts and present them in a compelling manner.
Communication is imperative to the success of any individual or organisation. In the case of the latter, it has to be refined both internally and externally, and a presentation is one of the strongest tools for impactful visual communication.
A white paper commissioned by Microsoft Corp. and released by IDC identified, "Communication, integration and presentation skills (CIPs) are required for about 40% of all positions and make up 11 of the top 20 skills that are required by 39% of the fastest growing, highest paying positions".
Which is to say that presentations or "decks" aren't going anywhere anytime soon. 

But at the same time, creating presentations can be a slog. Most professionals would be guilty of spending hours formatting slides, adding transitions, etc.
It was only natural for AI to come into the picture. As AI penetrates and integrates with different tools and mediums of content, there are more ways than ever for AI to benefit everyday requirements. Generative AI, the branch of AI that is capable of producing new forms of content, is also capable of generating presentations.
If you've ever struggled to meet a deadline on a presentation, you can imagine the ease AI stands to offer for the same. It's time to automate the tedious, repetitive task of creating a presentation from scratch and give professionals the ability to create quality content, quicker.
Some benefits of using AI for presentations
Input text into the platform and have designs generated within seconds.
Automatically fix or modify elements when you alter any specific element
Let AI organise your slides in the best way possible and help you tell a story effortlessly
Best AI Tools for Generating Presentations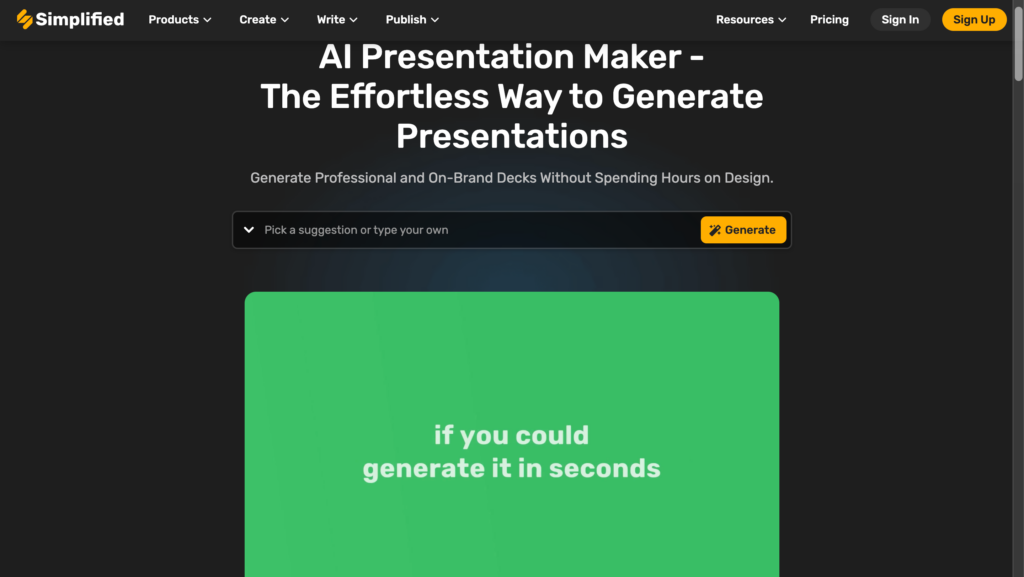 Simplified is a free AI platform that caters to all content creation needs. It has recently added the AI Presentation Maker, which is capable of generating complete presentations with one simple input. What's more, after generating a presentation draft, Simplified allows users to edit/add text, media and images, including AI-generated images, to enhance their presentation. All one has to do is enter a topic, and watch as the AI generates a unique presentation. It's fully customizable, so you and your team can collaborate and tweak it the way you want. From the font, text, color, images, and sounds, you have all the power to create amazing designs while saving time and effort!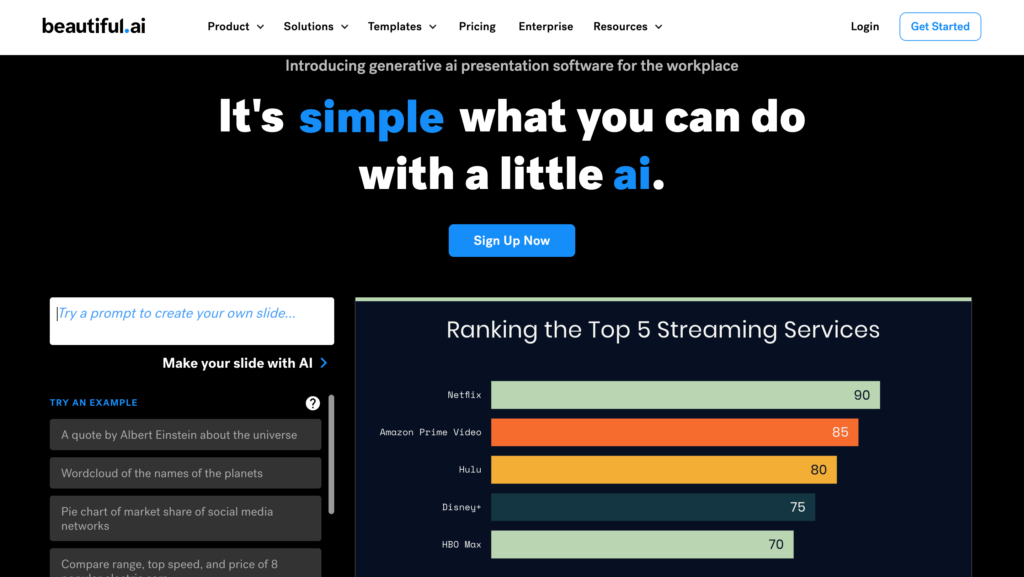 San Francisco-based Beautiful AI's tool, DesignerBot, utilises artificial intelligence from start to finish and is capable of creating full presentations out of single text prompts. It expedites the process of creating a presentation from scratch and handles the burden of design for the entire presentation deck.
Users can enter an input prompt or description of what they want, and teams have the freedom to enter as many keywords as required to generate a fully customised presentation draft aptly containing related text, photos, icons, layouts and design. Beautiful.AI also offers Smart Slides technology that automatically adapts the elements on a slide when a user adds or removes any element.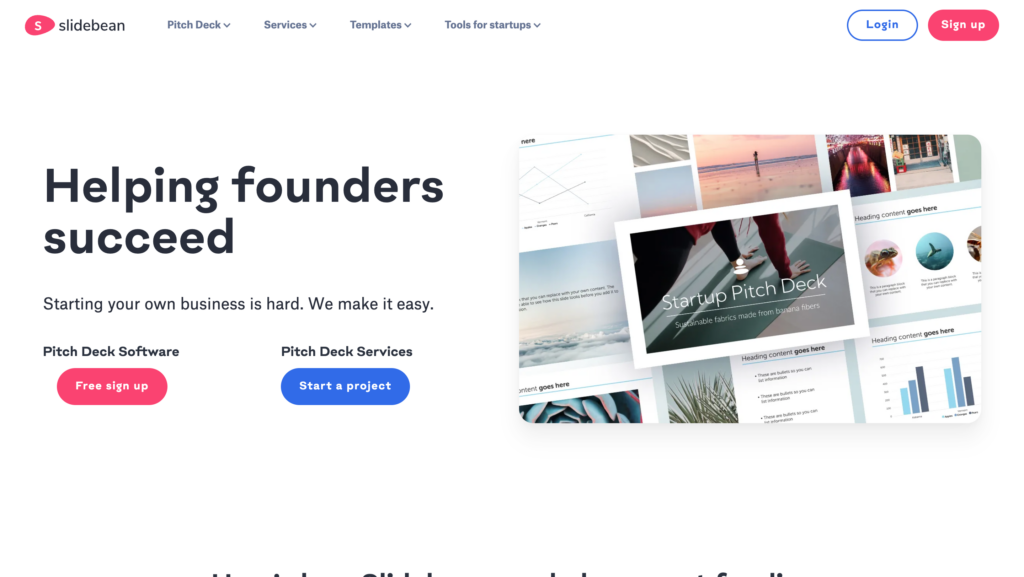 Slidebean is an AI-powered presentation maker that focuses on streamlining the presentation creation process. With its intuitive interface and AI-driven assistance, Slidebean makes it easy to create professional presentations in a fraction of the usual time. It also offers seamless collaboration features, making it a great choice for remote teams.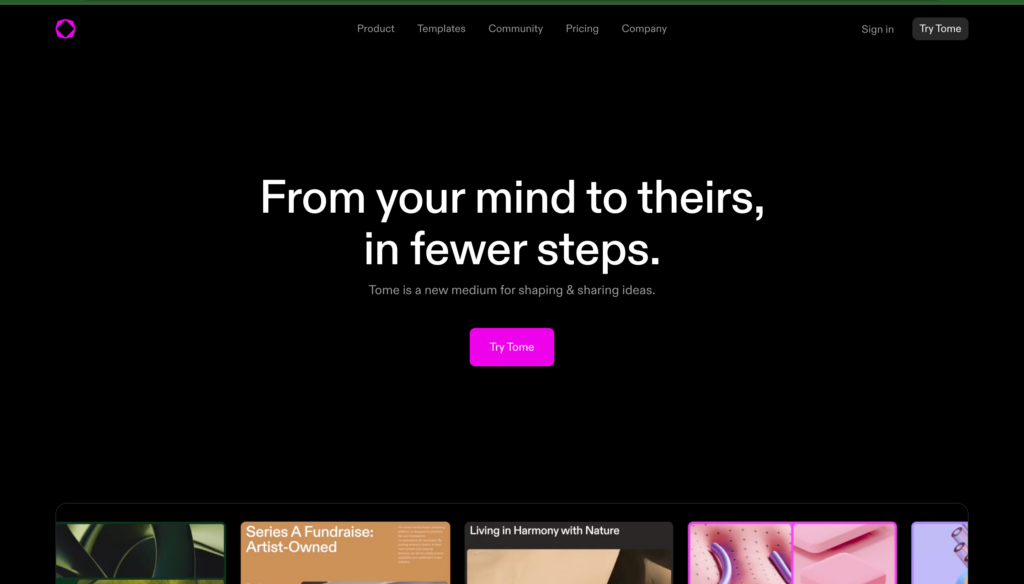 Tome is an AI-powered tool that does more than just create slides. It functions as a collaborative AI assistant, assisting users in creating compelling presentations. Tome can recognise your goals and develop content that resonates with your audience. It utilises OpenAI's ChatGPT and DALL-E 2 technology.
Tome provides pre-made templates and themes, AI-generated text and graphics, and tools for incorporating animations, videos, graphs, and other elements. What distinguishes it is its capacity to comprehend your commands. All you have to do is tell the AI helper what you want, and it will take care of everything else. This not only makes the design process easier, but also more enjoyable.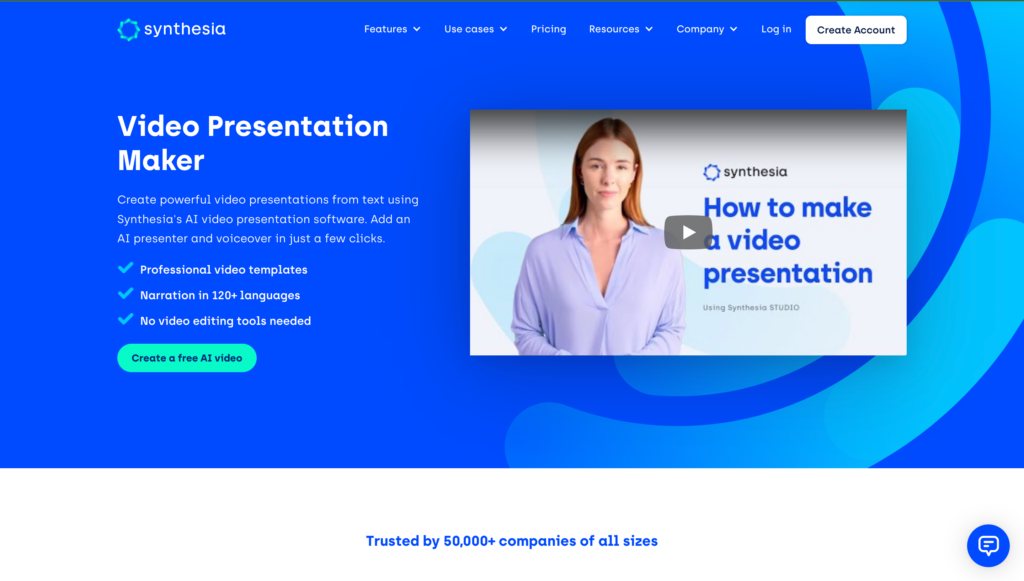 Synthesia is a powerful AI presentation creator with a user-friendly design and unique capabilities. One of its unique features is the opportunity to design your own AI avatar. This means you may personalise your presentation and make it more captivating and memorable.
Synthesia has you covered whether you're presenting to a small group or a large audience, and you don't have to be an expert to create high-quality presentations using Synthesia. The application provides a variety of professionally made video templates to utilise as a starting point. You can then tailor your presentation to your specific requirements.
6. Prezi Design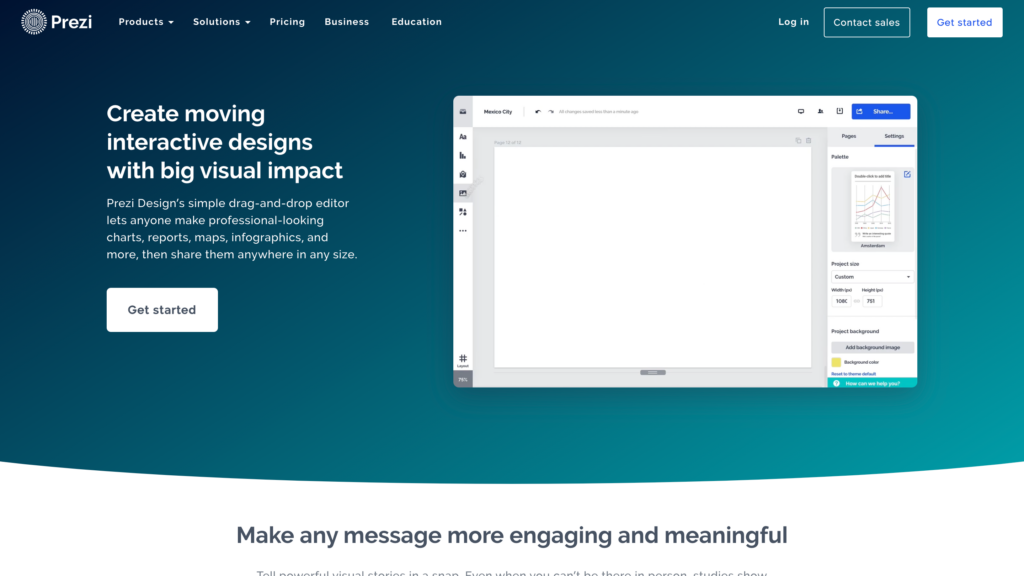 Prezi Design is a popular AI presentation maker that specializes in creating visually stunning presentations. With its vast library of professionally designed templates and customizable options, Prezi Design allows you to create presentations that are not only visually appealing but also highly interactive and engaging.
SlidesAI is a cutting-edge AI presentation maker that offers a wide range of features to enhance your presentations. With its advanced AI algorithms, SlidesAI can analyze your content and provide intelligent suggestions for slide design, content organization, and even speech delivery. This makes it the perfect tool for creating impactful and engaging presentations.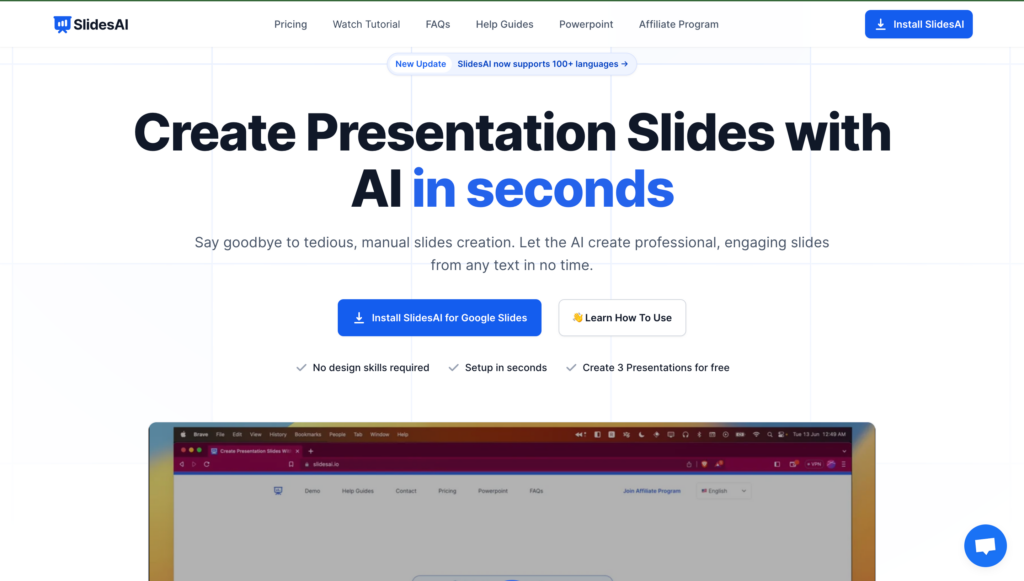 Presentation Tools with AI Features
Microsoft's Copilot for Microsoft 365
Microsoft has released its AI-powered Copilot for Microsoft 365 to aid users with various aspects of their work. It will be powered by OpenAI's GPT-4. It bears potential to be a productivity game changer.
Standing out in a range of features within the Copilot is its ability to automate the creation of PowerPoint presentations for its users. One can simply ask Copilot to create a presentation on whatever it is they require.
How it works: It starts with you giving the details of what the presentation is about. You then have the option to modify the style of the presentation. And that's really it– you hit "send" and within seconds Copilot creates a stellar presentation for you within seconds!
What's more, you can instruct AI to:
Change images
Re-write sentences
Add transitions that complement the presentation
Microsoft says that the average person uses 10% of what PowerPoint can do and believes that Copilot unlocks the other 90%. It is currently being tested and will soon be available for all Office 365 users.
Canva's AI-powered Visual Worksuite features
Don't wait around for Microsoft's 365 Copilot though, as Canva has come out with several AI-powered features to touch up images, create new visual templates and– you guessed it– generate whole presentations with minimal required input.
How it works: Canva's Magic Presentations follow a similar process as Microsoft's Copilot. You enter the prompt and Magic Presentations will generate a presentation in several templates from the pictures available in your catalogue. It will also incorporate your brand imagery, if any, and allow you to tweak the presentation to your needs.
Magic Presentations is free while it's in beta, and will be charged later.
Conclusion
One thing is certain – AI presentation makers are transforming the way we create and deliver presentations. These powerful tools offer a range of features and functionalities that enable us to elevate our presentations to the next level!