Chatbots powered by artificial intelligence are transforming the way humans get work done. Ever since ChatGPT launched last year, AI chatbot has become quite the buzzword among netizens.
But ChatGPT is not the only powerful chatbot out there. There are several AI chatbots and AI writers on the market that can make your business workflow extremely easy and answer most of your questions.
AI chatbots acceptable answering queries, writing code, composing emails, essays, and a lot more. While most of them a text based, some are capable of generating images, videos and audios as well.
Chatbots take care of tedious tasks like information gathering and thus are able to help individuals and businesses become more efficient and productive.
What to Look for in an AI Chatbot
When you set out to choose an AI chatbot for your business, here are a few things that you can keep in mind:
Easily Accessible: The AI chatbot of your choice should not require any advanced technical requirements while setting up or using the tool. It should be user-friendly while also delivering on guaranteed benefits. Consider whether the AI chatbot can seamlessly integrate with your existing systems and platforms. This allows for efficient data exchange and enables the chatbot to access relevant customer information, such as order history or support ticket status, in real-time.
Accuracy and Responsiveness: Since most of the AI chatbots are based on OpenAI's GPT, they offer a similar quality in their responses. All tools listed here generate coherent language without highly inaccurate information.
Added Benefits: Look out for tools that offer more than just generating a response to an entered prompt. For example, f your business operates internationally or serves a diverse customer base, it's important to choose an AI chatbot that can communicate in multiple languages.
7 Best AI Chatbots to Try Out in 2023
Here is a rundown of the top 7 chatbots available online that you should definitely try out:
1. Simplified AI Chatbot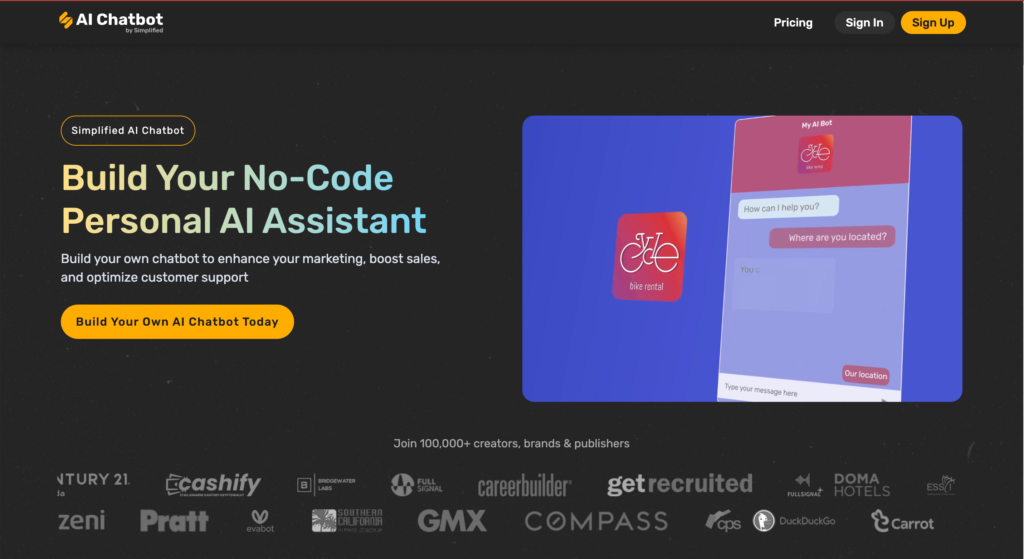 The newly-launched Simplified AI chatbot is your no-code personal AI assistant. It can help you accelerate your marketing by engaging, capturing and converting leads, boost sales through personalised recommendations and query assistance, as well as effortless customer support.
The AI chatbot can be used across industries and is fairly simple to set up, and leverages advanced AI algorithms and machine learning techniques to learn from the provided data. It continuously analyses user interactions and feedback to improve its responses over time, ensuring accuracy and relevancy.
Pricing: Simplified AI chatbot has a free version. The paid plans that allows users to other premium features such as capturing customer data start at 12 USD per month.
2. Chat by Copy.ai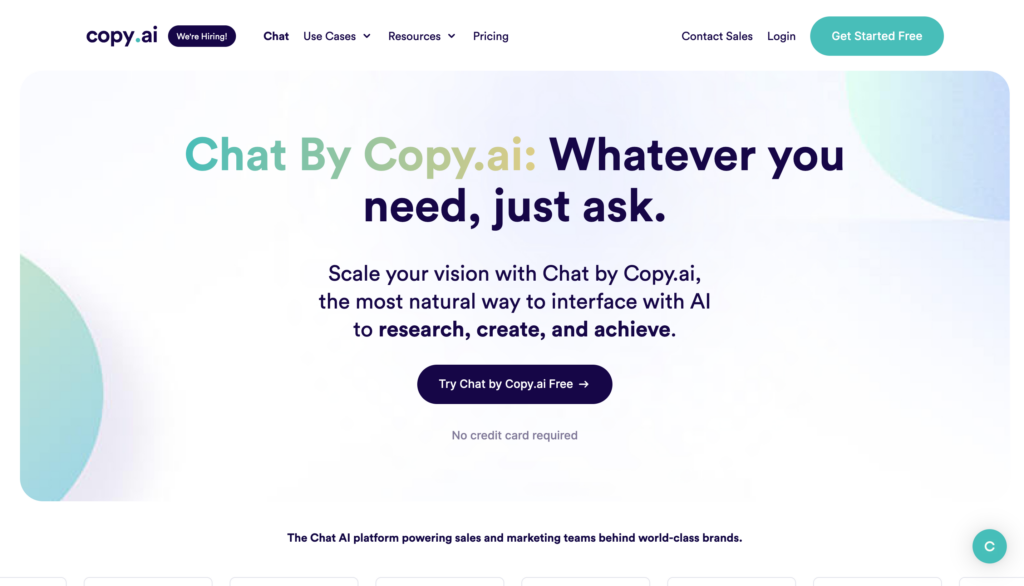 Copy.ai is a multi-faceted text generation platform with a focus on helping customers write copy. Chat by Copy.ai is their multifaceted chatbot which has a very similar functioning to ChatGPT while having access to more data. Although it is primarily trained for marketing needs, it stands as a powerful all-rounder AI chatbot to help with creativity, problem solving, and any writing tasks in general.
It has prebuilt prompts to help users get study results for routine queries and is best suited to play an internal assistant-like role for businesses.
Pricing: Chat by Copy.ai has a free plan available, while the paid plans start from $49 a month.
3. Jasper Chat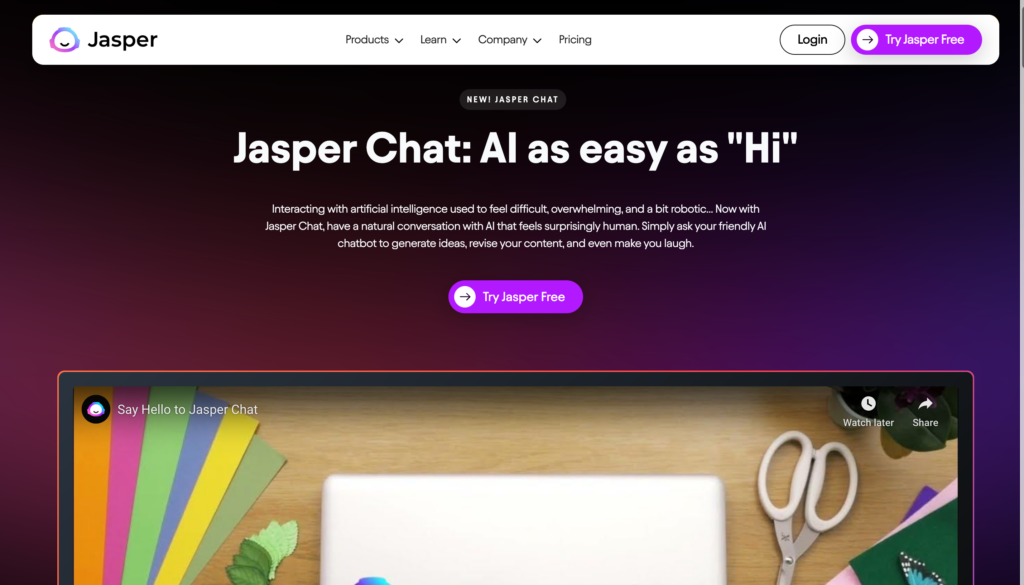 Jasper Chat is a prompt based AI chatbot that is built into Jasper, one of the best AI writers available online. It has a very easy to use chat interface And allows you to easily transfer chat outputs into Jasper's long form editor.
Like Copy.ai, Jasper chat is also built for use cases like marketing and sales, but it is capable of assisting with overall writing tasks as well.
Pricing: Jasper's subscription starts from $24 a month, and this includes Jasper Chat.
4. Writesonic (Chatsonic and Botsonic)
Writesonic is yet another AI platform with many features and services to help businesses with creativity and efficiency. The two tools we'll talk about are Chatsonic and Botsonic.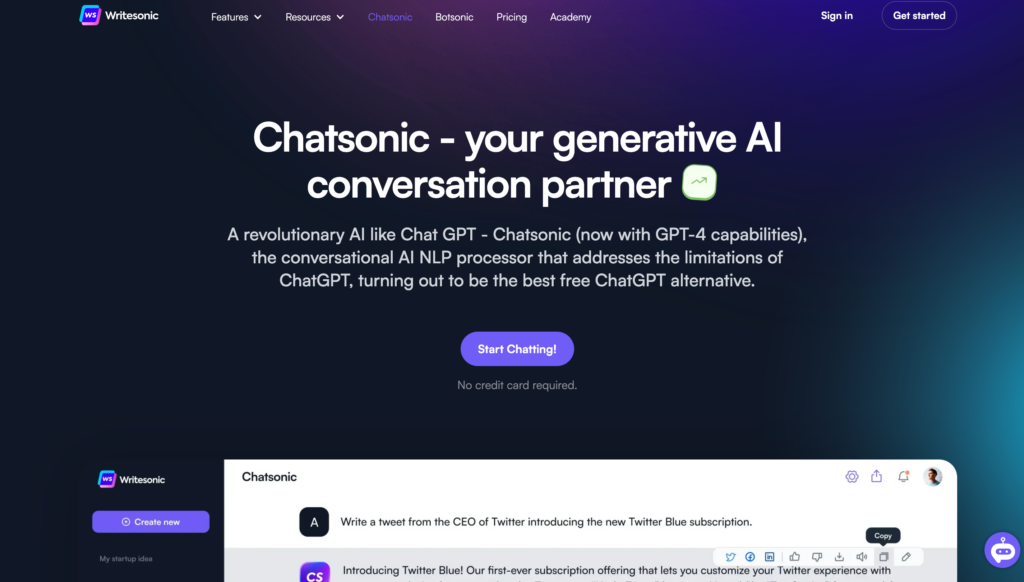 Chatsonic is a powerful AI chatbot and a well-suited alternative to ChatGPT. Like ChatGPT, Chatsonic is also built on GPT-4 but it imbibes other exclusive technology to expand the potential for those used to the text-only interface of ChatGPT.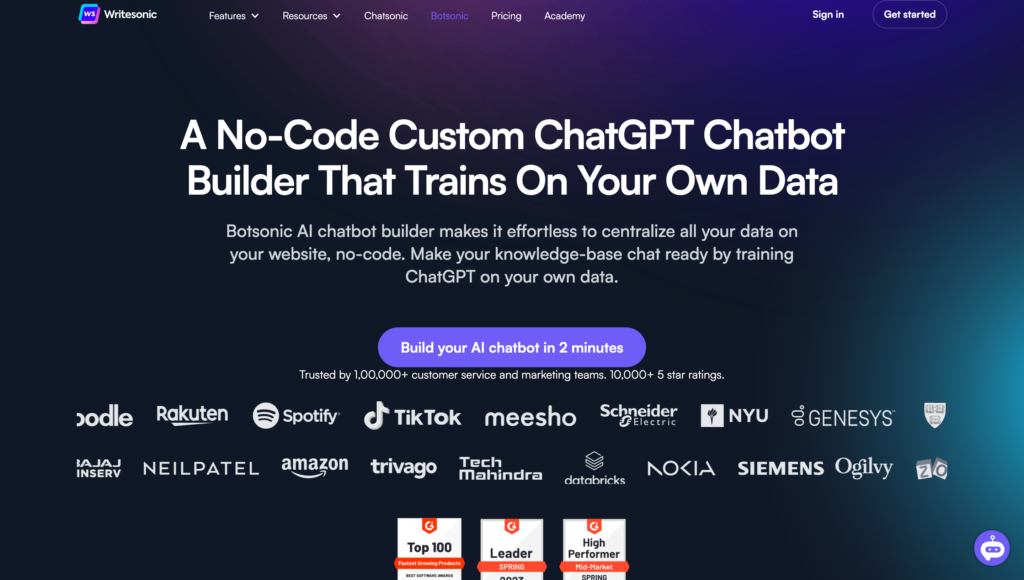 Botsonic is yet another product from Writesonic to create automated conversation AI experiences for your website audience.
Pricing: Writesonic's free plan comes with 10,000 monthly words and access to almost all of its features, including Botsonic and Writesonic.
5. Tidio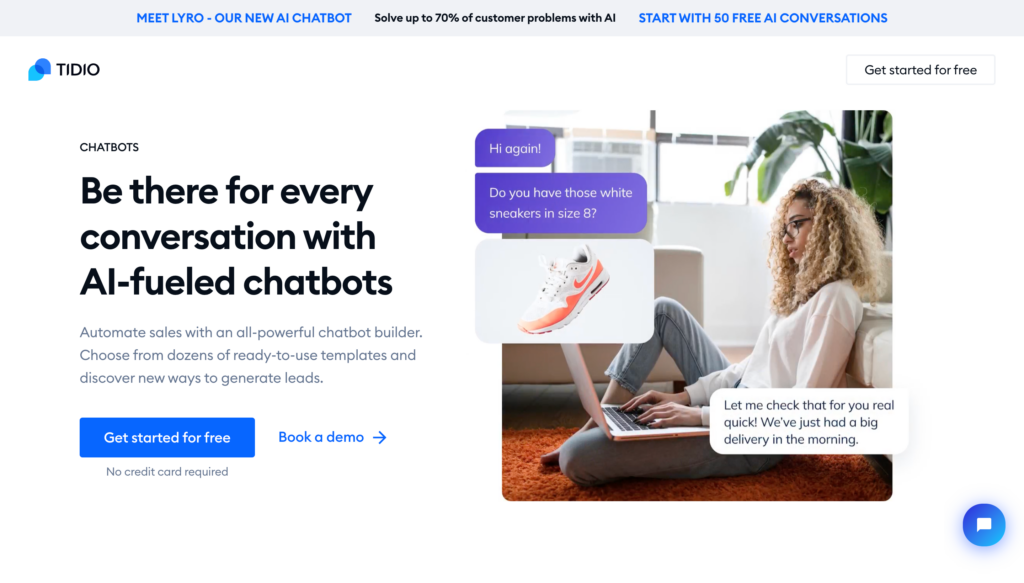 Tidio is unique and different from its contemporaries because it allows you to customise your own chatbots, without any coding knowledge.
There are lots of templates to choose from, and also an intuitive drag-and-drop builder that makes the task extremely easy. Chatbots can be prepped with automatic responses to boost customer support. Customers can also place orders directly from within the chat box.
Pricing: Tidio is available for free for a monthly chatbot limit of 100, while the paid plans start from $32.5 a month.
6. You.com (YouChat)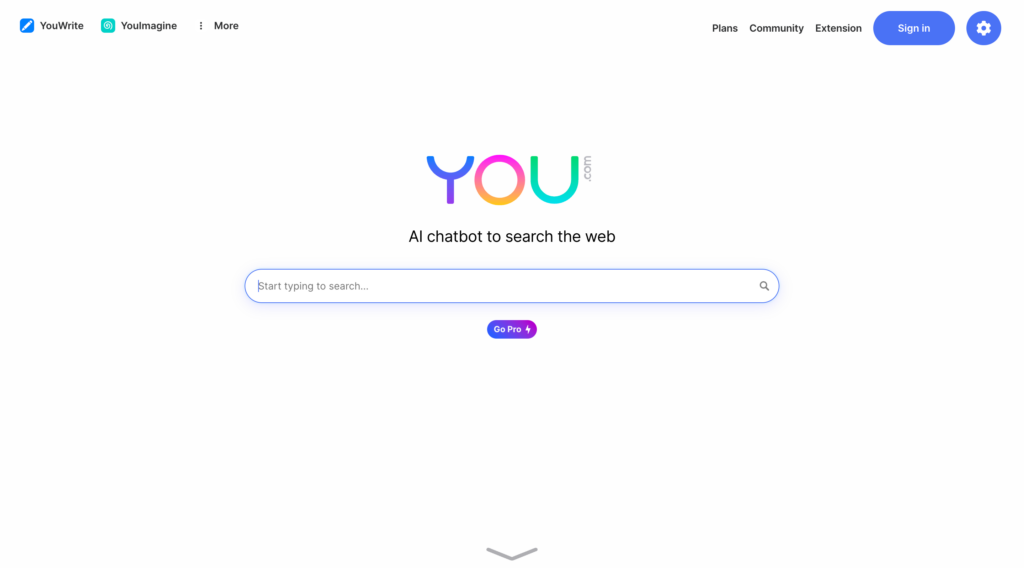 Similar to Jasper, You.com's chatbot YouChat makes use of OpenAI's GPT-3, and produces an answer to any question you input.
While it is similar in functioning to ChatGPT, a major plus for YouChat is that it cites sources from Google since it has Internet access that ChatGPT does not. It is great for surfing the internet and having AI answer all your questions.
Pricing: YouChat is free to use!
7. LivePerson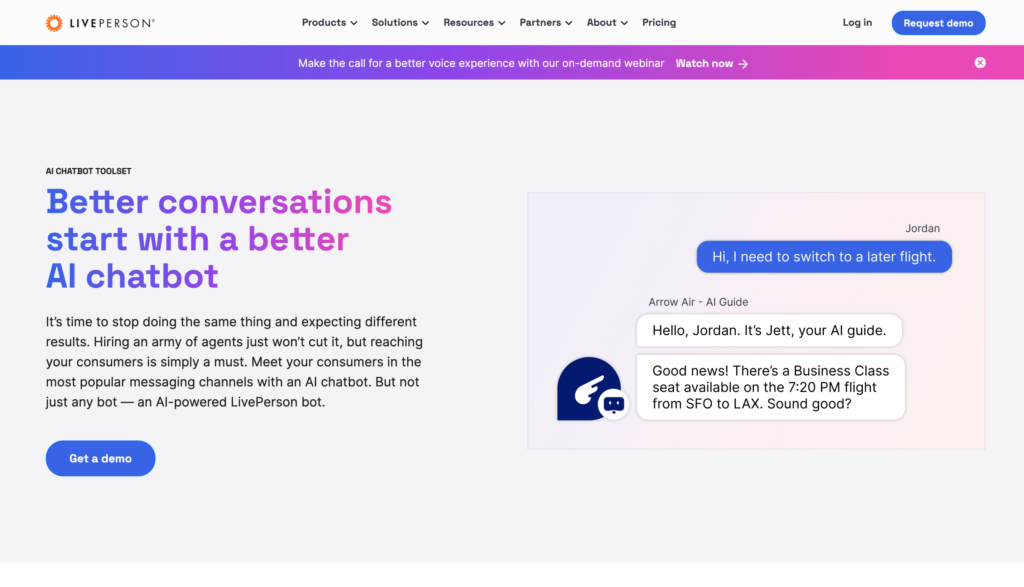 LivePerson is a sophisticated AI conversational chatbot platform. The technology that powers LivePerson is more advanced than the old "rule-based" chatbot models that provided programmed responses based on specific keywords used.
It is capable of handling complex interactions and deliver less-artificial responses, thus enabling companies to elevate customer experience and support. LivePerson can be used in customer and sales support and can also provide chat experiences across several common messaging platforms.
Pricing: LivePerson offers custom quotes to customers upon request.
Conclusion
AI chatbot tools offer immense potential to revolutionize customer engagement in 2023 and beyond. With advanced capabilities in natural language processing, machine learning algorithms, customization options, and seamless integration, these tools provide businesses with the ability to create highly engaging and interactive chatbot experiences.
When evaluating these AI chatbot tools, it is crucial to consider your business requirements, budget, and technical expertise. Each tool has its unique strengths and weaknesses, so choosing the right one depends on your specific needs. By aligning these tools with your business goals and utilizing their features effectively, you can embrace the power of AI chatbots to revolutionize your customer engagement strategy.